Trump criticizes national security advisor HR McMaster's comments about Russian meddling in the 2016 election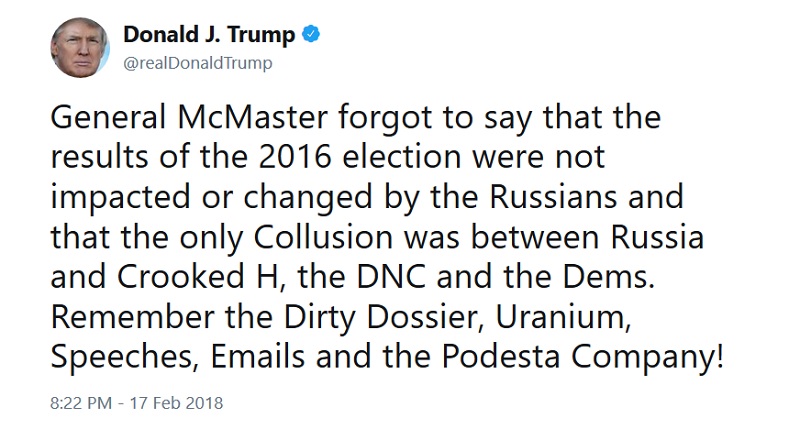 President Donald Trump, in a late-night tweet, criticized remarks his national security advisor made earlier Saturday about Russian interference in the 2016 election.
H.R. McMaster, who is also a lieutenant general in the U.S. Army, told a conference in Germany that there was "incontrovertible" evidence that Russia had meddled in the U.S. election.
He was citing Friday's federal indictments, stemming from special counsel Robert Mueller's investigation, that said Russian operatives conducted a sophisticated internet campaign to sow chaos in the American political scene.
Trump eventually responded to his national security advisor by saying McMaster left out some details from his comments.
"General McMaster forgot to say that the results of the 2016 election were not impacted or changed by the Russians and that the only Collusion was between Russia and Crooked H, the DNC and the Dems," Trump tweeted late Saturday night.
Deputy Attorney General Rod Rosenstein said Friday that these particular indictments did not include allegations that the Russian efforts affected the election's results. Trump saw the latest development in the case as a vindication.
The indictments released Friday allege, in part, that the Russians sought to disparage Democratic presidential candidate Hillary Clinton and help Trump win. The Russian operatives, according to the charges, attempted to convince some Americans to vote for third-party candidate Jill Stein over Clinton, and also sought to discourage minority turnout at the polls.
McMaster's comments Saturday were part of a testy exchange with a Russian delegate at the conference.
"As you can see with the FBI indictment, the evidence is now really incontrovertible and available in the public domain," McMaster said. Russian Foreign Minister Sergei Lavrov on Saturday dismissed reports of interference as "blather."
Trump has repeatedly denied that his campaign colluded with Russians to sway the election in his favor, and has often called the special counsel's investigation a "witch hunt" and a "hoax." Russian authorities have also rejected claims of collusion.
The president's tweet targeting McMaster came soon after he suggested in another tweet that the Russia probe had somehow distracted the FBI from seeing warning signs leading to Wednesday's shooting massacre at a high school in south Florida.
[CNBC]