Trump: It's 'FAKE NEWS' When Pundits Say My Approval Ratings Are 'Somewhat Low'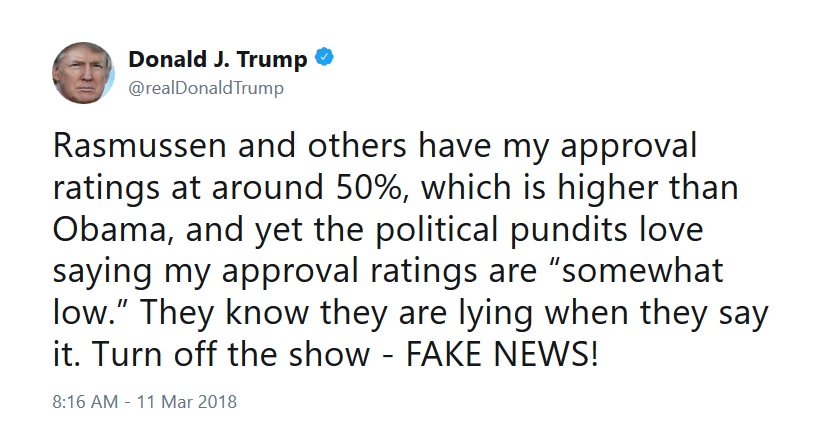 President Donald Trump has been extremely online this morning, shooting off a series of tweets. Having already taken aim at the "Failing New York Times," NYT reporter Maggie Haberman and Democrats, the president decided to take a shot at political pundits for calling his approval ratings low.
Rasmussen and others have my approval ratings at around 50%, which is higher than Obama, and yet the political pundits love saying my approval ratings are "somewhat low." They know they are lying when they say it. Turn off the show – FAKE NEWS!

— Donald J. Trump (@realDonaldTrump) March 11, 2018
As you can see in the tweet above, the president claims that Republican-leaning poll Rasmussen and "others" have his poll number "around 50%," which he claims are higher "than Obama." Furthermore, he wants people to "[t]urn off the show" because it is "FAKE NEWS" when pundits say his ratings are "somewhat low."
One wonders exactly what polls the president is looking at right now. Currently, Rasmussen has his approval rating at 45%, not "around 50%." Checking other recent polls, none are higher 43% except for the previous Rasmussen poll that had him at 48%.
In terms of aggregated poll numbers, RealClearPolitics has the presidential approval rating average at 40.9%. HuffPost Pollster shows the same in their polling average.
[Mediaite]