Trump Says He'll Take 'Very Serious Look' at Amazon's Business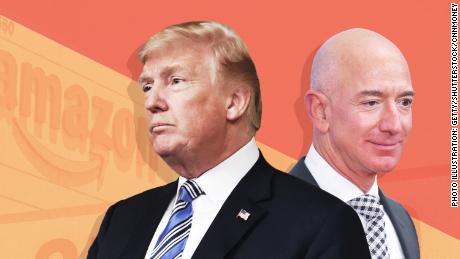 President Donald Trump said he will take a "very serious look" at Amazon.com Inc. and what he said is an "uneven playing field" the retailer enjoys against competitors.
"I'm going to study it and take a look," Trump told reporters aboard Air Force One on Thursday. "We're going to take a very serious look at that."
Trump aides said earlier in the week that the White House wasn't preparing punitive measures toward Amazon, but it wasn't immediately clear whether the president's comments indicated a potential shift.
Amazon was little changed in extended trading, dropping 0.1 percent to $1,451.75 at 5:43 p.m. in New York. While Trump's broadsides against the company battered the stock last week and into Monday, investors have shrugged off his latest assaults and sent the shares up each of the past three days.
Trump has fired off a barrage of criticism against Amazon and chief executive officer Jeff Bezos in Twitter postings since last week, sinking the Seattle-based Internet retailer's market value by as much as $55 billion at one point. Trump has argued the company receives favorable treatment on taxes and postal rates.
"You look at the sales tax situation which is going to be taken up I guess very soon, there's going to be a decision from the Supreme Court," Trump told reporters on Thursday. "So we'll see what happens. The post office is not doing well with Amazon that I can tell you.
"The playing field has to be level for everybody," he said as he returned from a trip to West Virginia.
Amazon collects sales tax in every state that has one. But Amazon's policies don't apply to third-party merchants selling goods through its website, and many of those transactions remain untaxed. Such sales make up about half of the company's volume. Amazon has said it's up to the sellers to collect any taxes and many don't.
The Trump administration has urged the U.S. Supreme Court to let state and local governments collect billions of dollars in sales taxes from online retailers. The justices are scheduled to hear arguments next month centering on a South Dakota law that calls for collecting sales taxes from large internet retailers even if they don't have brick-and-mortar stores in the state. A ruling is expected by late June.
While its contract with Amazon is confidential, the Postal Service has argued that its e-commerce services benefit the organization and its mail customers. It is legally prohibited from charging shippers less than its delivery costs. Further, taxpayers don't directly support the Postal Service's operations.
Amazon regularly uses the Postal Service to complete what's called the "last mile" of delivery, with letter carriers dropping off packages at some 150 million residences and businesses daily. The company has a network of 35 "sort centers" where customer packages are sorted by zip code, stacked on pallets and delivered to post offices for the final leg of delivery.
The company remains exposed to government action on other fronts.
The Justice Department or Federal Trade Commission could open antitrust or consumer protection investigations. The company is also competing for a multi-billion-dollar contract to provide cloud computing services to the Pentagon.
Safra Catz, the chief executive of Oracle Corp., one of Amazon's rivals for the Defense Department contract, criticized the bidding process in a private dinner with Trump Tuesday, complaining that it favored Amazon, people familiar with the plans said.
Trump heard her out and said he wants the contract competition to be fair, but made no indication he'd interfere in the bidding, the people said. White House Press Secretary Sarah Huckabee Sanders said Wednesday that Trump isn't interfering in the contract decision.