Former ambassador to Vietnam: Trump wanted me to send back refugees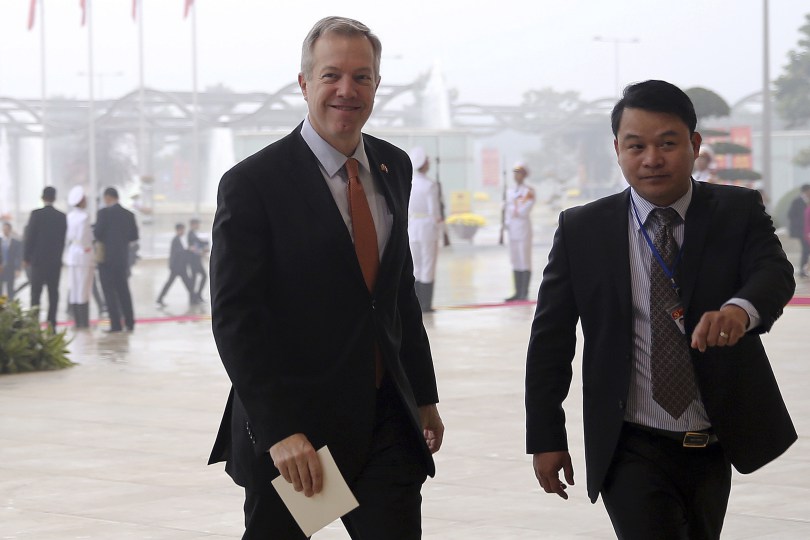 Former U.S. Ambassador to Vietnam Ted Osius said he resigned from his post last year after the Trump administration asked him to pressure the Vietnamese government to receive more than 8,000 Vietnamese refugees marked in the U.S. for deportation.
The vast majority of the people targeted for deportation — sometimes for minor crimes — were war refugees who had established lives in the U.S. after fleeing the Vietnam War more than 40 years ago, Osius wrote in an essay this month for the American Foreign Service Association.
"And they were to be 'returned' decades later to a nation ruled by a communist regime with which they had never reconciled. I feared many would become human rights cases, and our government would be culpable," he wrote.
The State Department declined to comment Friday. The Department of Homeland Security did not immediately reply to a request for comment. Osius, now vice president of Fulbright University Vietnam, a private, nonprofit institution in Saigon, described his three-year tour as U.S. ambassador in Hanoi as "the high point of my 30-year career in the Foreign Service and the honor of a lifetime." Efforts to reach him through the university and the foreign service association Friday were unsuccessful.
Osius's admission took on significant resonance in San Jose, which is home to more than 100,000 Vietnamese Americans, one of the largest populations of Vietnamese-born people outside of Vietnam.
It comes months after Vietnamese activists across the country, including many in the Bay Area, raised concerns that U.S. Immigration and Customs Enforcement was rounding up undocumented immigrants from Vietnam in unprecedented numbers that left communities shocked and fearful. They estimated more than 100 Vietnamese were detained across the country in October alone.
The surge in ICE activity appeared to spring in part from the Trump administration's aggressive efforts to deport immigrants with criminal records, even in circumstances where their home countries haven't traditionally cooperated with U.S. removal orders. In the past, immigrants in that situation have been allowed to stay in the U.S., but the Trump administration has been pressing Cambodia and Vietnam, in particular, to take back their deportees.
The result is that immigrants who have established roots and lives in the U.S. in spite of their eligibility for deportation are suddenly being detained and shipped out.
Vietnamese and U.S. officials in 2008 signed a repatriation memorandum that in part said Vietnamese immigrants who arrived in America before 1995 would not be subject to deportation. Activists, however, say some of the individuals being detained arrived before 1995, leaving them to wonder whether some of these deportations are illegal. Several organizations filed a lawsuit against the federal government in February for violating its repatriation agreement with Vietnam.
"It falls in line with what we predicted about this administration," said Nate Tan, a member of the Asian Prisoner Support Committee in Oakland. "I'm not shocked. It's disheartening and not surprising that this administration is working so hard to deport people who are refugees."
In his essay, Osius said he feared "this repulsive policy" would destroy any chances Trump had in fulfilling other goals for relations with Vietnam, among them reducing trade deficit, strengthening military relations and coping with regional threats, such as those from North Korea.
"I voiced my objections, was instructed to remain silent, and decided there was an ethical line that I could not cross if I wished to retain my integrity. I concluded that I could better serve my country from outside government, by helping to build a new, innovative university in Vietnam," he wrote.
Phi Nguyen, litigation director at Asian Americans Advancing Justice in Atlanta, said she's happy the former diplomat spoke out.
"A lot of what's been happening has happened behind closed doors," she said. "I'm encouraged to see somebody going public with speaking out against this policy that the Trump administration is implementing, not only with respect to Vietnam but also with Cambodia, Iraq and Somalia and all of the countries that historically have not repatriated people who are ordered deported."