Trump plugs Mar-a-Lago during Japanese PM's visit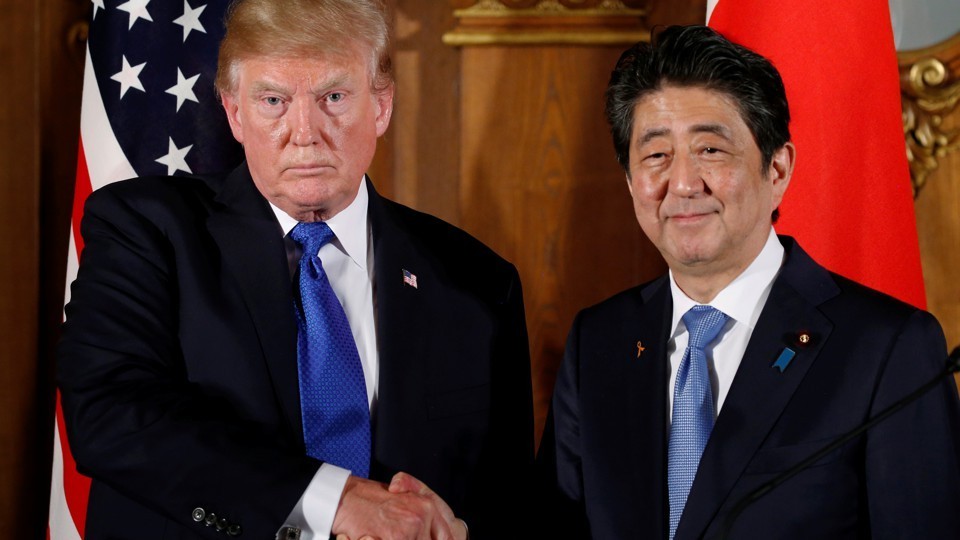 President Trump plugged his Mar-a-Lago resort on Tuesday at the start of a visit by Japanese Prime Minister Shinzo Abe — saying that world leaders were clamoring for an invite to his fave Florida destination.
"Many of the world's great leaders request to come to Mar-a-Lago in Palm Beach. They like it. I like it, we're comfortable, we have great relationships," Trump said before offering a somewhat patchy history of the storied waterfront property.
"As you remember, we were here and President Xi of China was here. It was originally built as the Southern White House. It was called the Southern White House. It was given to the United States, and then Jimmy Carter decided it was too expensive for the United States so they fortunately for me gave it back and I bought it."
Mar-a-Lago was built as a residence for Post cereal heiress Marjorie Merriweather Post beginning in 1924.
When she died in 1973, she bequeathed it to the National Park Service in the hopes that it could be used as a "Winter White House."
But because it was so expensive to maintain, the property was returned to the Post Foundation by Congress in April 1981, when President Reagan was in office. Trump bought it in 1985.
"It was a circuitous route but now indeed it is the Southern White House," the president continued. "Again, many of the leaders want to be here, they request specifically."
The president also said that he and Abe would hit the links on Wednesday before holding bilateral discussions on trade, the Koreas and other topics.
Korea is coming along. South Korea is meeting and has plans to meet with North Korea to see if they can end the war and they have my blessing on that," he said.
"People do not realize the Korean War has not ended. It's going on right now and they are discussing an end to the war," Trump said.
The fighting stopped on the peninsula when the parties signed an armistice in 1953, but the war was never officially declared over.
Trump is spending the week at Mar-a-Lago, the 17th time he has visited the resort since taking office.
Media
Trump on his private club: Mar-a-Lago is "now it is indeed the Southern White House. And, again, many, many people want to be here. Many of the leaders want to be here. They request specifically." pic.twitter.com/2t6jbSRPAn

— Matt Shuham (@mattshuham) April 17, 2018