Trump lashes out at Washington Post over reporting: 'Presidential Harassment!'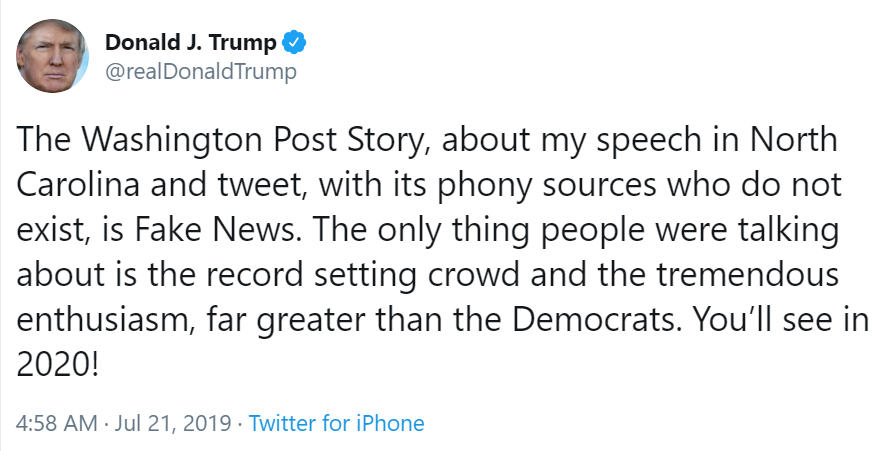 President Trump on Sunday lashed out The Washington Post over its reporting on his attacks against a group of minority congresswomen, calling it an example of "Presidential Harassment."
"The Washington Post Story, about my speech in North Carolina and tweet, with its phony sources who do not exist, is Fake News," Trump tweeted, referring to a rally in North Carolina his campaign held last week. "The only thing people were talking about is the record setting crowd and the tremendous enthusiasm, far greater than the Democrats. You'll see in 2020!"
"Presidential Harassment!" Trump added in a separate tweet, before tweeting "MAKE AMERICA GREAT AGAIN" in a subsequent one.
The tweet itself didn't specify which story Trump was referring to, but Twitter users pointed to one that described the turmoil inside the White House after the president told a group of minority congresswomen to "go back" to the "crime infested places" they came from.
The Post, in a report published Saturday, described an effort from friends, advisers and political allies to resolve the problems that came from Trump's attacks.
The Post did not immediately respond to a request for comment from The Hill on Trump's latest tweets.
Trump last week sparked an uproar by telling four freshman House Democrats — Alexandria Ocasio-Cortez (N.Y.), Ilhan Omar (Minn.), Rashida Tlaib (Mich.) and Ayanna Pressley (Mass.) — to "go back" to the "crime infested places" they came from before speaking out about U.S. policies.
Several Democrats, as well as multiple GOP lawmakers, condemned the comments as racist and xenophobic. The House last Tuesday voted on a resolution to condemn Trump's tweets as racist.
The vote was followed on Wednesday by a Trump rally crowd chanting "send her back" as the president attacked Omar, a Somali refugee who came to the U.S. with her family as a child.
Trump distanced himself from the chant, saying he disagreed with it. But he has continued to rail against the congresswomen, saying on Sundaythat they should "apologize" to the U.S. for their hateful rhetoric.
Trump has repeatedly attacked the media during his presidency, often describing it as "fake news" and the "enemy of the people."
[The Hill]