Pentagon puts $10B contract on hold after Trump swipe at Amazon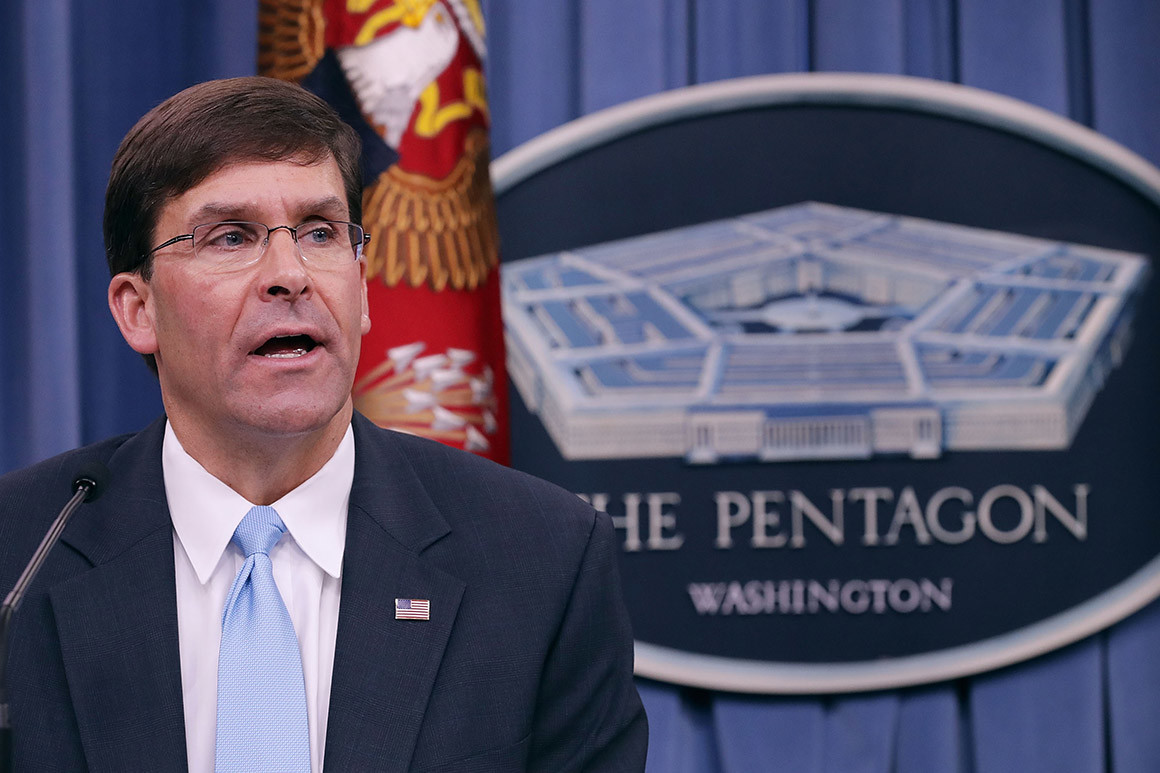 The Pentagon is slamming the brakes on its mega-competition to award a $10 billion cloud computing contract after President Donald Trump suggested the Defense Department might have rigged the contest in favor of Amazon, a frequent target of his criticism.
Defense Secretary Mark Esper, who assumed his post July 23, is now reviewing accusations of unfairness in the fiercely fought competition, the Pentagon announced Thursday, marking the president's latest incursion into the arcane world of Defense Department contracting. Oracle has reportedly waged an aggressive lobbying campaign to push back on the competition, now pitting Amazon against Microsoft, including talking with members of Congress and preparing a graphic that made its way to the president's desk.
"Secretary Esper is committed to ensuring our warfighters have the best capabilities, including Artificial Intelligence, to remain the most lethal force in the world, while safeguarding taxpayer dollars," Elissa Smith, a Pentagon spokesperson, said in a statement Thursday. "Keeping his promise to Members of Congress and the American public, Secretary Esper is looking at the Joint Enterprise Defense Infrastructure (JEDI) program. No decision will be made on the program until he has completed his examination."
The latest scrape once again pits Trump against Amazon, whose founder and CEO Jeff Bezos also owns The Washington Post and has become a growing powerbroker in the D.C. region.
The review is expected to delay the award of the Joint Enterprise Defense Infrastructure, or JEDI, contract, which the Pentagon had hoped to award in August. JEDI would give the Pentagon a single, secure cloud computing system for data ranging from personnel statistics to intelligence information, instead of the more than 500 clouds used by different parts of the military today.
The contracting process has been plagued by controversy that pre-dates Trump's involvement, including allegations by rival bidders that the competition unfairly favored Amazon because of perceived conflicts of interest. Companies have also raised issues with the Pentagon's decision to choose just one company for the contract, citing a lack of competition and security concerns. Four companies — Oracle, IBM Corp., Amazon and Microsoft — initially bid for the winner-take-all contract. Amazon and Microsoft are the only two finalists.
[Politico]