After watching Lou Dobbs, Trump attacked Google for firing an apparent white nationalist sympathizer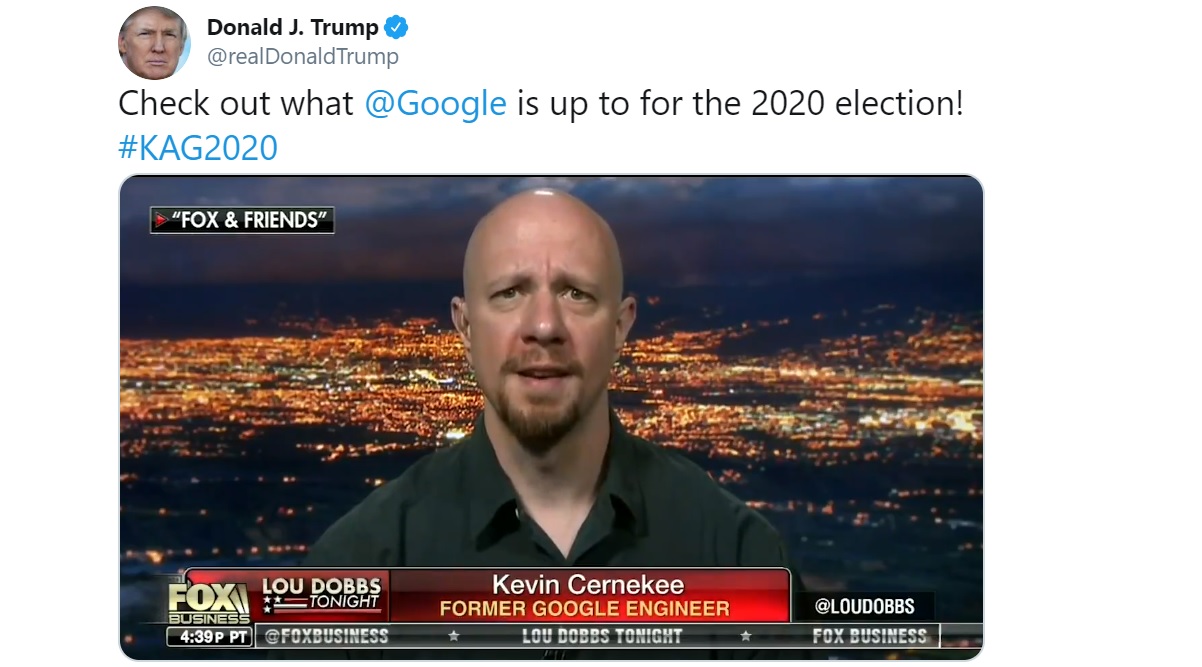 President Donald Trump spent part of Tuesday morning tweeting about a segment from Fox Business host Lou Dobbs' show which championed Kevin Cernekee, a former Google engineer who claims he was fired because of the company's purported anti-conservative bias. "All very illegal," Trump concluded of the company's purported actions, adding, "We are watching Google very closely!" This is at least the third time Trump has publicly suggested he would take action against Google based on what he's seen on Fox.
Right-wing media have trumpeted Cernekee's story over the past few days, with outlets fitting him neatly into their narrative that tech companies have it in for Republicans. But the story is more complicated than that: While it portrays him as a rank-and-file conservative, Cernekee appears to have repeatedly defended white nationalists on internal Google message boards.
How Cernekee's story ended up on the president's Twitter says a lot about the right-wing media ecosystem, their obsession with finding supposed conservative martyrs of tech companies, and Trump's reckless consumption and promotion of whatever Fox News happens to put in front of his eyes.
The cautionary tale of "Republican engineer" Kevin Cernekee
On Thursday, The Wall Street Journal's Rob Copeland profiled Cernekee, portraying him as a "Republican engineer" fired from the company for the conservative views he expressed on the company's internal message boards.
"Google told Mr. Cernekee in a termination letter that he was let go for multiple violations of company policies, including improperly downloading company information and misuse of the remote-access software system," Copeland reported. "Mr. Cernekee, who hasn't spoken publicly before about his status at Google, denies that. He says he was fired for being an outspoken conservative in famously liberal Silicon Valley."
Copeland largely paraphrased Cernekee's message board posts or accepted his explanations of them rather than quoting their content. This made it impossible for readers to assess precisely what his views were. But the story's 28th paragraph provides a tantalizing detail: A fellow conservative engineer "internally circulated a dossier describing Mr. Cernekee as 'the face of the alt-right' at Google" (that engineer was also later fired).
It remains contested whether Cernekee's views triggered his termination. But the Journal's framing of Cernekee as simply a "Republican" with "conservative take[s]" who stands up for other "right-leaning employees" created the impression that it is open season on anyone to the right of Hillary Clinton. That makes his actual opinions relevant.
The Daily Caller, which has its own complicated history with the alt-right, pulled on that thread a few days later (though only after producing multiple stories amplifying Cernekee's claims). Deputy Editor J. Arthur Bloom reported that Cernekee had "suggested raising money under the auspices of the company's free speech listserv for a bounty to identify Richard Spencer's assailant."
After Spencer, one of the nation's most prominent white nationalists, was punched while giving an interview in January 2017, Cernekee suggested putting together a group donation to support the search for the puncher through racist troll Charles Johnson's website.
Cernekee identified Spencer only as a "well known conservative activist." When other Google employees pointed out that Spencer is "a prominent, vehement racist and anti­-Semite," Cernekee defended him.
The Daily Caller story was subsequently confirmed by BuzzFeed News tech reporter Ryan Mac.
Bloom also reported that Cernekee had criticized a media description of the "Golden State Skinheads" as a neo-Nazi group, and he praised the organization for "[standing] up for free speech and free association."
"Conservatives angry at big tech may view such postings as a cautionary lesson in the importance of vetting their cause célèbres," Bloom concluded.
Indeed.
Conservative media made Cernekee a cause célèbre
Right-wing media outlets have spent the last several years trumpeting complaints that social media platforms are biased against conservatives. This behavior is consistent with conservatives' decades-long strategy of decrying the news media as biased against them in order to influence media coverage. But it is inconsistent with the facts.
"There is no evidence that Google, Facebook, or any other major tech company is biased against conservative employees or conservative content," Recode reported in response to Cernekee's allegations. "While it is true that most tech employees lean liberal in their personal beliefs, that doesn't mean that their employers discriminate in the workplace, or in the products they build and maintain."
Cernekee's story echoed the conservative narrative about tech companies' bias, and it rocketed through the right-wing media after Thursday's Wall Street Journal profile. He was treated as both a conservative martyr and as a credible source for information on Google's operations.
Notably, these aggregations portrayed Cernekee as a typical conservative, with only the Post mentioning that Cernekee had been linked to the "alt-right."
By Friday night, Cernekee was being feted on Tucker Carlson's Fox News show, a regular home for both deceptive attacks on tech companies and white supremacist talking points. After providing the former engineer the platform to repeat his allegation that he was fired for being a conservative, Carlson turned his attention to Google's influence on the 2020 election.
"Do you believe that Google will attempt to influence the election outcome or will attempt to try to prevent Trump from being reelected?" Carlson asked.
"I do believe so. I think that's a major threat," he replied.
"And yet, Congress, including Republicans are just sitting back and acting like it's not happening," Carlson responded. "It's disgusting. Kevin, thank you for sounding that alarm."
That appearance launched a new wave of aggregations by conservative media outlets.
Fox's morning show Fox & Friends hosted Cernekee on Monday where he repeated his allegation that Google intends to prevent Trump's reelection.
That interview, in turn, became the basis for a segment on the Monday night edition of Fox Business' Lou Dobbs Tonight, which aired several hours after the Daily Caller published its story detailing Cernekee's postings.
"That is nasty stuff," the host commented of Cernekee's allegations, "and by the way, it's illegal." He later added that the Justice Department "should be sitting right inside the Google complex" to prevent "a fraud on the American public." His guest, Breitbart.com's Peter Schweizer, added that DOJ should be "monitoring what Google is doing in real time now."
Dobbs' show attracts fewer than 400,000 viewers on average. But Trump is often one of them, and he was apparently watching Monday night.
Cernekee's allegations enter the Trump-Fox feedback loop
Trump is obsessed with Fox, watching hours of its programming every day and frequently tweeting about segments that catch his attention. This Trump-Fox feedback loop regularly influences the Trump administration's policy, personnel, and political strategy.
On Monday morning, Trump promised to "honor the sacred memory of those we have lost" during mass shootings in El Paso, TX, and Dayton, OH, by "acting as one people." That night, he tweeted three clips from Dobbs' show. Two of the president's tweets dealt with the program's discussion of Cernekee's claim that Google is biased against him.
The next morning, after tweeting two quotes from the morning's edition of Fox & Friends, Trump returned to the issue of Google's bias.
In a tweetstorm, the president contrasted what he said he had been told by Google CEO Sundar Pichai with what he had heard on Dobbs' show the previous night, including from Cernekee.
The Trump-Fox feedback loop is particularly salient in giving the president targets for his ire, and the network's obsession with tech platform bias has repeatedly resulted in angry Trump tweets. This is at least the third time Trump has responded to Fox segments by tweeting that his administration would take action against Google.
In August 2018, in response to a conspiracy-minded Dobbs segment, the president accused Google of illegally "suppressing voices of Conservatives" adding that his administration would address the situation.
And last month, Trump tweeted that his administration would review whether Google has committed "treason" after he saw a Fox & Friends news brief in which one of his supporters baselessly floated that claim.
Conservatives have a political and financial interest in ginning up claims that the tech platforms are biased against them, and right-wing media eagerly amplify their claims for their own interests. This pattern will continue and such issues that don't hold up to scrutiny will be thrust into the mainstream discourse because the president of the United States loves to watch Fox News.