Trump blasts media, Biden, Warren in Pennsylvania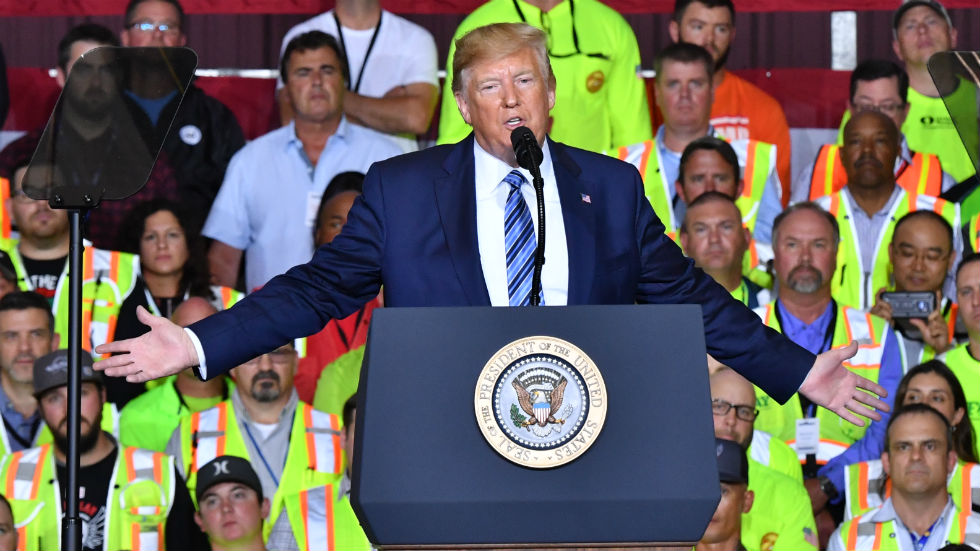 President Trump blasted the media, U.S. trading partners and his Democratic rivals for the White House in a Tuesday speech that had been advertised as focusing on energy and manufacturing.
Trump spent roughly an hour in Monaca, Pa., speaking to workers at a Shell petrochemical plant. While his speech was sprinkled with references to his administration's efforts to expand pipelines, produce more energy and cut regulations, the president regularly went off on tangents swiping at critics.
"Can you imagine if I got a fair press? I mean, we're leading without it. Can you imagine if these people treated me fairly? The election would be over," Trump said, taking a dig at the media.
In another random aside directed at the media, Trump mocked the Academy Awards and suggested the annual show had seen a drop in ratings because it didn't align with his supporters.
"The Academy Awards is on hard times now," Trump said. "You know why? Because they started taking us on. Everyone got tired of it."
The president swiped at various other familiar targets, including the Green New Deal, Federal Reserve Chairman Jerome Powell and the World Trade Organization.
At one point, he disputed claims that he's profited off the presidency by claiming that lawsuits over the Emoluments Clause and other legal fees have cost him a "fortune."
"I don't care. You know, if you're wealthy it doesn't matter," he said. "I just want to do a great job."
Trump has a tendency to go off script at official White House events. Standing behind the official presidential seal, he often ignores the teleprompter in favor of ad-libbed remarks recounting his 2016 victory, predicting his 2020 opponent and admonishing those who doubt him.
Tuesday was no different. Trump was in Pennsylvania to tour a Shell petrochemical facility where natural gas will be turned into plastic.
The president at times made references to energy and manufacturing as promised. He touted his administration's decision to roll back regulations that prevented plants like the one he visited Tuesday from being built and cited the boom in energy production during his presidency.
But even some of his energy-related remarks were retreads from his campaign-style rhetoric. He jabbed at 2016 Democratic nominee Hillary Clinton over her comments dismissing the future of coal miners in West Virginia and accused New York state of caring more about suing him than about boosting jobs with fracking.
Trump again mocked the use of wind as an energy source and ripped the progressive Green New Deal and the Democratic presidential candidates who support it.
"I don't want to speak badly about it. I want to encourage them. That should be their platform, I don't want to do it too early. I did it very early with Pocahontas. I should've probably waited. She's staging a comeback on Sleepy Joe," he said, referring derisively to Sen. Elizabeth Warren (D-Mass.) and former Vice President Joe Biden, respectively.
"I don't know who's going to win," he continued. "But we'll have to hit Pocahontas very hard again if she does win. But she's staging a little bit of a comeback. What a group. Pocahontas and Sleepy Joe. I don't think they give a damn about western Pennsylvania."
Parts of Trump's speech were intended to highlight his personal role in boosting economic prospects for some in Pennsylvania, which will serve as a key swing state in the 2020 election as he seeks to retain support in Rust Belt communities that helped propel him to victory four years ago.
The president won the state by roughly 45,000 votes in 2016 and won the county where Tuesday's speech took place by 18 percentage points.
Even though plans for the Monaca plant were first announced while former President Obama was in office, Trump attempted to broadly take credit for the economic conditions in the state.
[The Hill]