Trump calls Juan Williams 'pathetic,' 'always nasty and wrong'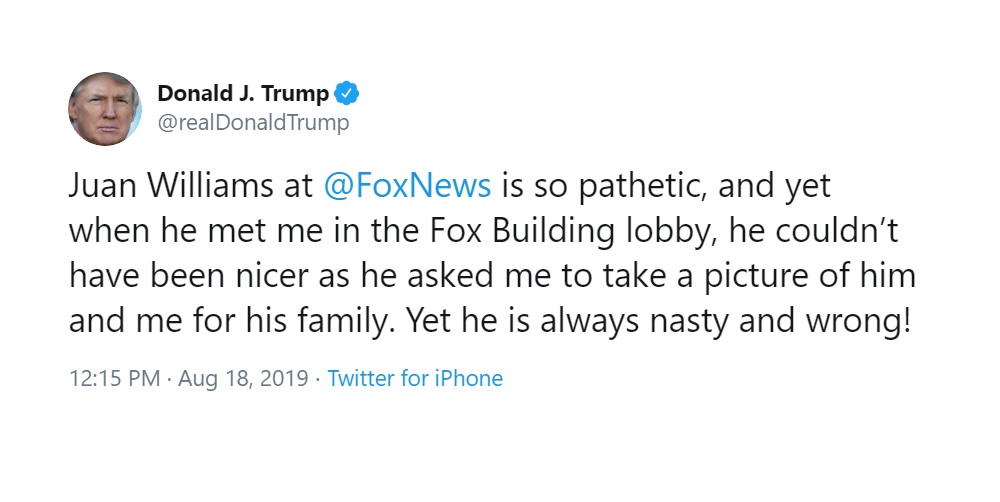 President Trump on Sunday tore into Fox News political analyst Juan Williams, calling him "pathetic," "nasty" and "wrong."
"Juan Williams at @FoxNews is so pathetic, and yet when he met me in the Fox Building lobby, he couldn't have been nicer as he asked me to take a picture of him and me for his family," the president tweeted. "Yet he is always nasty and wrong!"
Williams, who is a recurring co-host of the Fox News show "The Five" and a columnist for The Hill, has been a vocal critic of Trump, including during a "Fox News Sunday" panel that reaired at 2 pm ET, just an hour before the president's tweet.
During that segment, Williams called Trump's approach to China on trade "brutish," according to Mediaite.
"It's not just Democrats who say, 'Hey, this guy is inartful.' The Wall Street Journal" has said that — he then attacked The Wall Street Journal at a rally this week," he said.
"But I think that what you see here is that Trump's unpredictability, Dana, then risks global recession, and you can do that. I mean, clearly, unpredictability is something that really scares Wall Street, because it depresses the likelihood of capital investment, which is necessary for stock growth," he added.
Trump last week suspended a new round of tariffs against China, the initial announcement of which rocked global markets.
Williams, who had not seen Trump's tweet when contacted by The Hill on Sunday, said he is used to the president criticizing him.
He also told The Hill that he had asked Trump for the photo at Fox on behalf of a security guard who wanted a picture with the president, an interaction Williams said Trump misunderstood.
The president is a devoted fan of the Fox News network, frequently tweeting clips from its programming. He is known to have a close relationship with several Fox News personalities, including host Sean Hannity.

However, he has increasingly criticized the network over its campaign coverage, particularly when the network chooses to cover 2020 Democratic candidates.
[The Hill]