Trump defends Alabama forecast using old Dorian map with disclaimer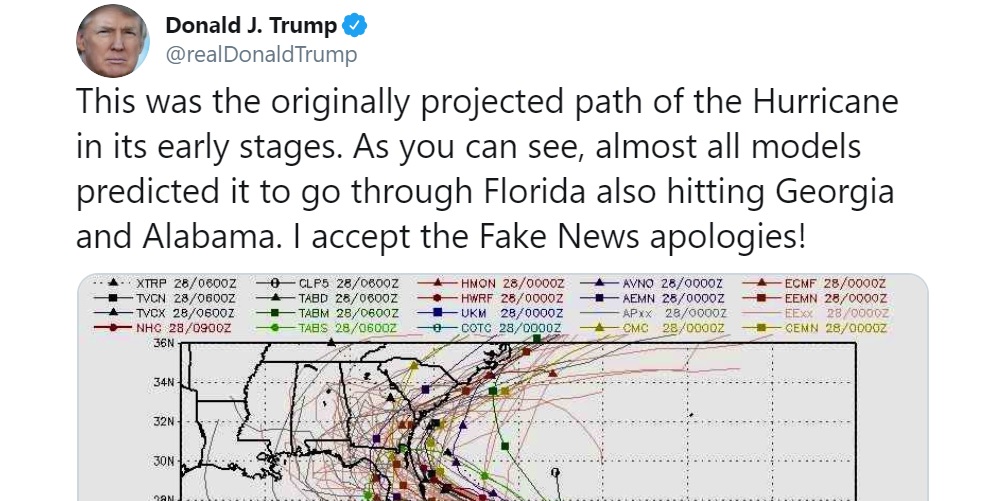 In a Wednesday afternoon tweet, President Trump shared a week-old hurricane graphic showing the various model runs for Dorian before it had even slammed into the Bahamas.
"This was the originally projected path of the Hurricane in its early stages. As you can see, almost all models predicted it to go through Florida also hitting Georgia and Alabama. I accept the Fake News apologies!" Trump said in the tweet, referencing the flak he has taken for having warned Alabama against the hurricane.
As the South Florida Water Management District plot shows, the president is correct to say early forecasts did acknowledge Dorian could have swept across the Florida Peninsula toward southeast Alabama.
However, meteorologists, journalists, and politicians have condemned the president for providing outdated information. He first warned Alabama could be hit "harder than anticipated" on Sunday, days after it became clear Dorian would instead ride along the East Coast away from Alabama.
The National Weather Station in Birmingham even put out a tweet after Trump first mentioned Alabama, asserting the state would not see "any impacts" from Dorian because it was projected to remain too far east.
As for his latest tweet, Trump did not mention that the hurricane model plot was dated Aug. 28 and his first warning for Alabama was on Sept. 1.
And what's more, below the graphic is a disclaimer that says, "NHC Advisories and County Emergency Management Statements supersede this product. This graphic should compliment, not replace, NHC discussions. If anything on this graphic causes confusion, ignore the entire product."
Reality
Here is the NWS map at the time of Trump's tweet on September 1st.