NOAA backs Trump on Alabama hurricane forecast, rebukes Weather Service for accurately contradicting him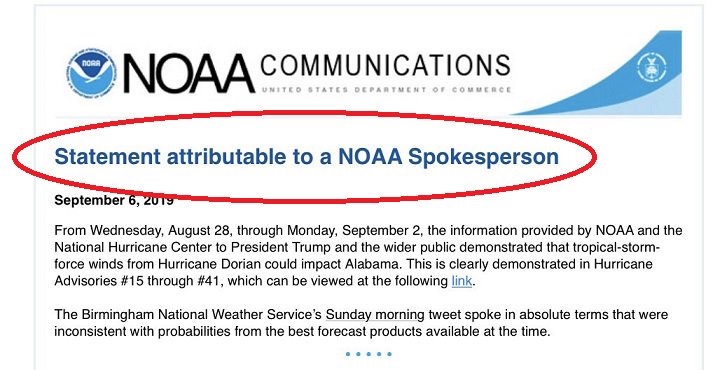 The federal agency that oversees the National Weather Service has sided with President Trump over its own scientists in the ongoing controversy over whether Alabama was at risk of a direct hit from Hurricane Dorian.
In a statement released Friday afternoon, the National Oceanic and Atmospheric Administration (NOAA) stated Alabama was in fact threatened by the storm at the time Trump tweeted Alabama would "most likely be hit (much) harder than anticipated."
Referencing archived hurricane advisories, the NOAA statement said that information provided to the president and the public between Aug. 28 and Sept. 2 "demonstrated that tropical-storm-force winds from Hurricane Dorian could impact Alabama."
In an unusual move, the statement also admonished the National Weather Service office in Birmingham, Ala., which had released a tweet contradicting Trump's claim and stating, "Alabama will NOT see any impacts from #Dorian."
The NOAA statement said: "The Birmingham National Weather Service's Sunday morning tweet spoke in absolute terms that were inconsistent with probabilities from the best forecast products available at the time."
Released six days after Trump's first tweet on the matter, the NOAA statement was unsigned, neither from the acting head of the agency nor any particular spokesman. It also came a day after the president's homeland security and counterterrorism adviser released a statement justifying Trump's claims of the Alabama threat.
The NOAA statement Friday makes no reference to the fact that when Trump tweeted that Alabama was at risk, it was not in the National Hurricane Center's "cone of uncertainty," which is where forecasters determine the storm is most likely to track. Alabama also had not appeared in the cone in days earlier, and no Hurricane Center text product ever mentioned the state.
Trump's tweet that Alabama would be affected by the storm gained national attention Wednesday when he presented a modified version of the forecast cone from Aug. 29, extended into Alabama — hand-drawn using a Sharpie. The crudely altered map appeared to represent an effort to retroactively justify the original Alabama tweet.
The doctored map went viral, becoming a source of ridicule among political pundits and late-night talk show hosts, who accused the president of dishonesty.