Trump responds to whistleblower complaint: "Another Fake News Story! Another Witch Hunt!"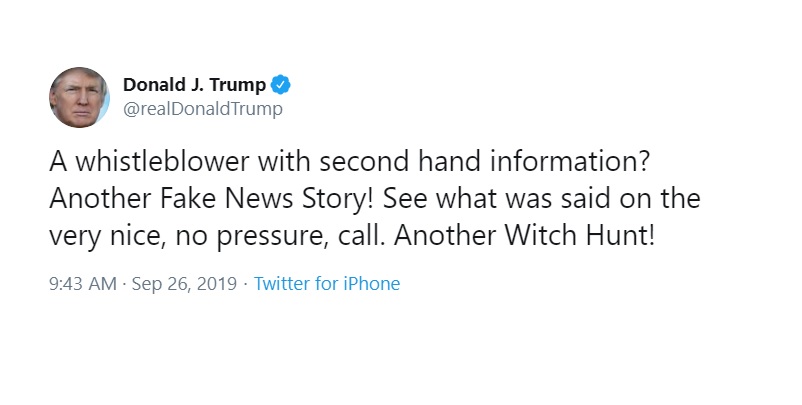 U.S. President Donald Trump has responded to the release of the whistleblower complaint who indicated possible violations during the president's on July 25 telephone conversation with his Ukrainian counterpart Volodymyr Zelensky. "A whistleblower with second hand information? Another Fake News Story! See what was said on the very nice, no pressure, call. Another Witch Hunt!" Trump tweeted on September 26.
The U.S. president says Chairman of the United States House Permanent Select Committee on Intelligence Adam Schiff has lost credibility. "Adam Schiff has zero credibility. Another fantasy to hurt the Republican Party!" he said. He later added: "Liddle' Adam Schiff, who has worked unsuccessfully for 3 years to hurt the Republican Party and President, has just said that the Whistleblower, even though he or she only had second hand information, 'is credible.' How can that be with zero info and a known bias."
[Unian]
Reality
Out of all the stupid talking points Trump supporters are parroting, that's the dumbest and easiest to debunk.
The whistleblower complaint matched directly with the "transcript" memo released by Trump.