Trump hits Fox News's Chris Wallace over Ukraine coverage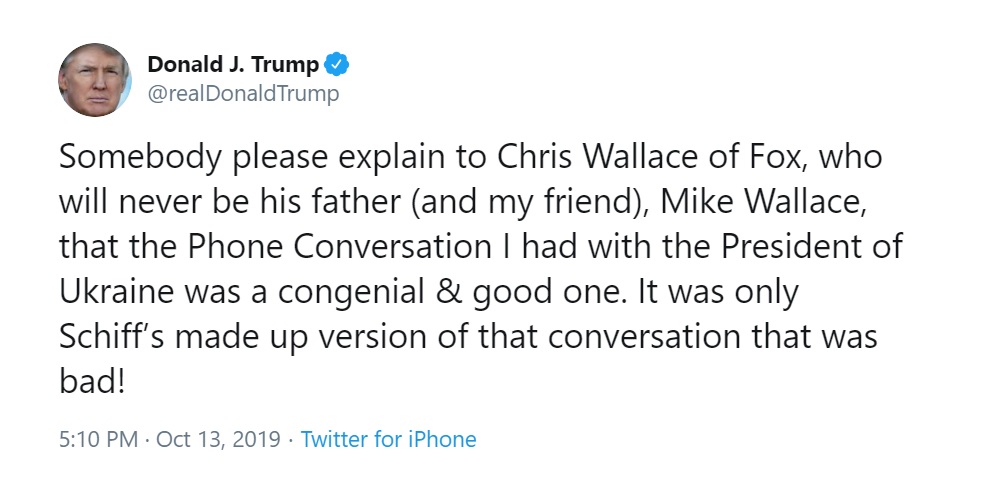 President Trump on Sunday hit Fox News anchor Chris Wallace for his coverage of the phone call between Trump and Ukraine's president that is at the center of the House's impeachment inquiry.
"Somebody please explain to Chris Wallace of Fox, who will never be his father (and my friend), Mike Wallace, that the Phone Conversation I had with the President of Ukraine was a congenial & good one," Trump tweeted.
"It was only Schiff's made up version of that conversation that was bad!" he added.
House Democrats launched an impeachment inquiry after details of the July 25 phone call between Trump and Ukrainian President Volodymyr Zelensky became public.
According to a readout of the call released by the White House, Trump pressed Zelensky to investigate former Vice President Joe Biden, a front-runner for the Democratic presidential nomination, and his son Hunter Biden while discussing U.S. military aid to Ukraine.
Trump has defended the call as "perfect" and sought to frame the impeachment inquiry as a political move orchestrated by Democrats, including House Intelligence Chairman Adam Schiff (D-Calif.).
Wallace has said that the call and the intelligence community whistleblower complaint that brought attention to it show Trump pressing Zelensky.
Trump has in recent months ramped up attacks against several Fox News anchors, including Wallace, Ed Henry and Shepard Smith, who left the network this week.
Sunday was not the first time that Trump has criticized Wallace by invoking his father, veteran broadcaster Mike Wallace.
In May, Trump chastised Chris Wallace and Fox for giving airtime to Democratic presidential candidate Pete Buttigieg, tweeting, "I like Mike Wallace better."
A spokesperson for Fox News did not directly comment on Trump's latest attack on Wallace, but pointed to a recent panel where the anchor responded to Trump saying he likes Mike Wallace better.
"To which my reaction is always: One of us has a daddy problem, and it's not me," Chris Wallace said.
[The Hill]