ISIS leader killed in daring U.S. raid in Syria, Trump says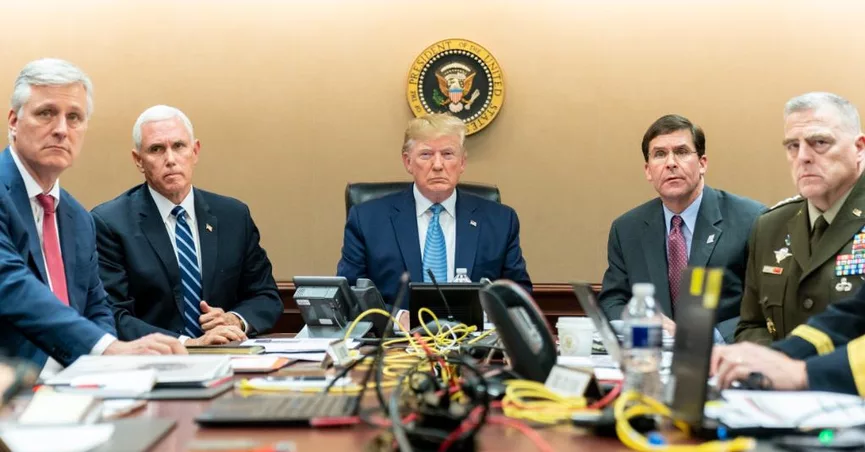 Islamic State leader Abu Bakr al-Baghdadi died in a U.S. raid in northwestern Syria, President Donald Trump announced Sunday, describing in detail a daring mission by Army Delta Force commandos that he said had been planned for five months.
Baghdadi, whose self-declared caliphate once covered large swaths of Syria and Iraq, detonated a suicide vest, killing himself and three children after he was cornered in a tunnel.
"The thug who tried so hard to intimidate others spent his last moments in utter fear, in total panic and dread, terrified of the American forces bearing down on him," Trump said from the White House. "Baghdadi's demise demonstrates America's relentless pursuit of terrorist leaders and our commitment to the enduring and total defeat of ISIS and other terrorist organizations."
No U.S. personnel were lost in the raid and Defense Secretary Mark Esper told CNN that two who suffered minor injuries have been returned to duty.
The death of Baghdadi, long considered the most wanted man in the world, came amid weeks of acrimonious debate in Washington about the U.S. role in Syria after Trump's efforts to remove troops from the region. The abrupt withdrawal allowed scores of ISIS prisoners to escape and set off warning that of a rebirth of an Islamic State sanctuary, which has been the focus of an intense U.S.-led air campaign backed by small number of troops on the ground and local allies, since 2015.
After years of rare and unconfirmed sightings, Baghdadi resurfaced in an unverified video in April, rallying his followers in Iraq and Syria following the group's loss of its so-called caliphate.
The United States had placed a $25 million bounty on the ISIS leader's head.
Russia in June 2017 claimed to have killed Baghdadi in an airstrike on Raqqa, Syria. A month later reports of his death again surfaced, this time from the Syrian Observatory for Human Rights.
Baghdadi is believed to have been born in 1971 in Samarra, Iraq. He was a cleric in a Baghdad mosque during the 2003 U.S. invasion that toppled Iraqi President Saddam Hussein. He joined the insurgency against U.S. forces in Iraq in its early days and spent 10 months in U.S. military detention in 2004.
Baghdadi become the leader of al-Qaida's Iraq faction in 2010. In 2014, he declared the Islamic State a global caliphate from the Al-Nuri mosque in Mosul, in what is his only known public appearance as the leader of the terrorist organization.
Trump called ISIS "among the most depraved organizations in history" and listed some of the group's victims: the Iraqi Yezidi minority group against whom it committed "genocidal mass murder," the Jordanian fighter pilot burned alive in a cage after his plane crashed in ISIS territory, and the American hostages Jim Foley, Steven Sotloff, Peter Kassig, and Kayla Mueller who died in the group's custody.
"His evil acts of beheadings, enslavement of women, rape, torture, and pure brutality follows him to his grave," Secretary of State Milke Pompeo said in a statement.
Foley's mother, Diana, thanked Trump and the troops. "I hope this will hinder the resurgence of terror groups and pray that captured ISIS fighters will be brought to trial and held accountable," she said.
The mission to kill or capture Baghdadi was launched from Iraqi territory. "This raid was impeccable and could only have taken place with the acknowledgment and help of certain other nations and people," Trump said. "I want to thank the nations of Russia, Syria, Turkey, and Iraq, and I also want to thank the Syrian Kurds for certain support they were able to give us."
The raid, which lasted two hours inside Baghdadi's compound, was immediately hailed by both parties as a major victory in the fight against Islamic terrorism.
"The death of al-Baghdadi is a triumph for our nation's anti-terrorism efforts and is a testament to the persistence and expertise of our military and intelligence services," said Sen. Jeanne Shaheen, a New Hampshire Democrat and member of the Armed Services Committee. "Al-Baghdadi spread a heinous terrorist ideology which must continue to be snuffed out in Syria and around the world.
"I congratulate President Trump, our allies who assisted in this effort, and, in particular, those who risked their lives in this raid," she added in a statement.
"It's tremendous news that the U.S. has ended Baghdadi's bloody jihad," added Sen. Ben Sasse, a Nebraska Republican and member of the Intelligence Committee. "The President made the right call to take out this bloodthirsty monster who led ISIS as it raped and pillaged its way through Iraq and Syria."
But Sasse and others also warned in a statement about letting up the pressure. "As Americans celebrate this victory, we must remain clear-eyed that this is no time to let off the gas: Baghdadi is gone but another animal will take his place as ISIS works to regroup."
"Removing the leadership of terrorist groups is not on its own a decisive win. It never has been," said Eric Robinson, a former intelligence official. "Saying that the caliphate is going to crumple as a result of this is just wrong. It will endure."
The death of its leader won't mark the defeat of ISIS, agreed Michael Nagata, a retired Army lieutenant general and former senior intelligence official who fought the Islamic State's predecessor organization in Iraq and was the top special operations commander in the Middle East during the early years of the ISIS campaign.
"I've never seen the death of a senior leader be the catalyst for the elimination or destruction of a powerful, well-entrenched, global terrorist movement. It's a necessary step but it's never a decisive step," Nagata said in an interview.
"There are a lot of parallels to be drawn to the impact of Osama bin Laden's death," said Nagata, who was also the senior U.S. military official in Pakistan at the time of the 2011 raid that killed the founder of al-Qaida. "It was important at the time and had enormous symbolic value but it is mostly strategically irrelevant now. That's the trajectory I expect the impact of Baghdadi's death to follow."
Retired Army Lt. Gen. Mick Bednarek, who was the top U.S. officer at the U.S. embassy in Baghdad during ISIS' rise in 2014 and 2015, said in an interview it is "incredible news and speaks highly once again of our collective intelligence agencies and more specifically our special operators."
But Bednarek, who four years ago called the battle against ISIS "the fight of our lifetime," cautioned against taking too many victory laps.
"When you eliminate the head or figurehead, does that mean the demise of the Islamic State terror organization? Absolutely not. Who is the next emergent leader? It is going to have an impact, but it is not going to be the be all end all where we can rest on our laurels."
Trump used unusually vivid, even gory, language in describing Baghdadi's final moments — descriptions that that some regional experts feared could further inflame extremists in the region.
"He died after running into a dead-end tunnel, whimpering and crying and screaming," Trump said. "The compound had been cleared by this time, with people either surrendering or being shot and killed. Eleven young children were moved out of the house un-injured. The only ones remaining were Baghdadi in the tunnel, who had dragged three children with him to certain death. He reached the end of the tunnel, as our dogs chased him down. He ignited his vest, killing himself and the three children. His body was mutilated by the blast, but test results gave certain and positive identification."
"He was a sick and depraved man, and now he's gone," Trump said, adding at one point that he would support making public Baghdadi's final moments.
Trump also said Baghdadi "died like a dog. He died like a coward." The reference particular could anger Islamist extremists because they view the animals as unclean.
Dana Shell Smith, a former U.S. ambassador to Qatar, warned that being so descriptive could backfire by stoking more anger toward the United States.
She pointed out that former President Barack Obama was far more careful in describing al-Qaida chief Osama bin Laden's killing. The Obama administration even pointed out that it gave bin Laden's body an Islamic funeral ritual before slipping it into the ocean.
"It was important for our relationships in the region and safety of our military and diplomats," the former ambassador wrote on Twitter. "It's how America rolls. With honor. We don't delight in death like the terrorists do."
Bednarek said the president's extended remarks, in which he also repeatedly took credit for the raid and the defeat of ISIS, struck him as "a bit disquieting."
"But that is his penchant to do."
Still, the damage inflicted on the group is undeniable, Esper said.
"This is a devastating blow," he told CNN. "This is not just their leader, it's their founder. He was an inspirational leader in many ways. He's the one that when he — he formed ISIS in 2014, he led to the establishment of physical caliphate throughout the region, so this is a major blow to them. And we're going to watch carefully next steps and as a new leader and leaders pop up, we'll go after them as well."
[Politico]
Reality
Let's take a moment to recognize this is exactly what we expect a President of the United States to do, find the terrorist organization and break it up.
But taking a step back there are several issues with what had transpired.
First, the only reason how we had information on al-Baghdadi's location is because of Kurdish intelligence, the same Kurd allies who Trump abandoned a week prior just to get off of the phone with Turkish Dictator Recep Tayyip Erdoğan, then blasted the Kurds as 'no angels.'
Second, according to reporting by The New York Times we've been following al-Baghdadi for some time, but the military had to act because of Trump's surprise decision to pull troops from northern Syria. So the operation happened despite Trump, not because of Trump. This put our service men and women at a much greater risk.
Third, Trump compared this a bigger get than Osama bin Laden, who President Barack Obama gave the go-ahead to the mission that brought him to justice. That's just an incredibly dumb statement to compare the ISIS-inspired attacks to the world-changing event on 9/11, orchestrated by bin Laden.
Fourth, Trump turned our national security into partisanship by keeping this operation secret from both Democrats and Republicans in Congress. It was okay for him to let Russia know, but not Nancy Pelosi, or even Mitch McConnell? This is on-brand for Trump's style of politics where he'd rather be friends with our enemies than work with his fellow Americans.
Fifth, the operation occurred at 3:30pm, Trump was golfing at a resort he still owns, operates, promotes, and receives profits from at that exact time. It's possible when he got to the White House around 5:30pm the operation was still ongoing, but this image is too staged with most people looking at the camera.
Finally, Donald Trump announcement of the death of ISIS leader Abu Bakr al-Baghdadi revealed a slew of sensitive details about the secret military operation that could imperil future raids, special operations and intelligence. He has no care of national security.