Trump attacks Fox News for interviewing Swalwell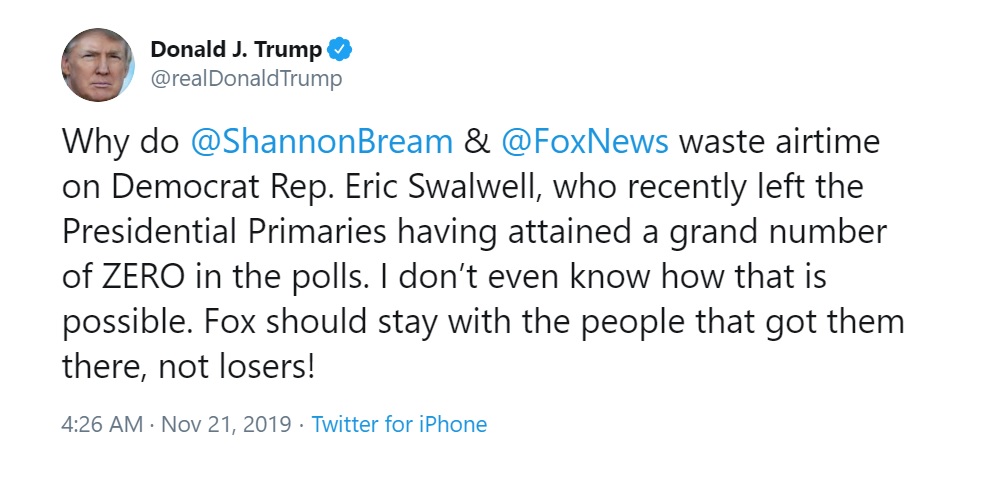 President Trump on Thursday renewed his attacks against Fox News over its coverage of the impeachment inquiry, taking issue with the network's decision to interview Democratic Rep. Eric Swalwell (Calif.) about the process.
Trump singled out Fox News host Shannon Bream, asking why she would "waste airtime" by featuring a failed presidential candidate, referencing Swalwell's short-lived 2020 campaign.
"Fox should stay with the people that got them there, not losers!" he said.
Beam interviewed Swalwell, a Democratic member of the House Intelligence Committee, following a day in which the panel heard testimony from three administration officials about the president's dealings with Ukraine.
The House impeachment inquiry has centered around allegations that the president pressured Ukraine to investigate 2020 presidential candidate Joe Biden and his son Hunter Biden over unfounded allegations of corruption. House Democrats are also probing whether Trump tied military aid to Ukraine publicly announcing the investigations.
While speaking on Fox News, Swalwell adamantly pushed back against Republicans' argument that a quid pro quo didn't take place because Ukraine eventually received the security aid.
"The president got caught. The only reason the aid was released was because the whistleblower came forward," Swalwell said, referencing a government whistleblower complaint that led to the launch of the impeachment inquiry.
Swalwell also emphasized new statements from Laura Cooper, the deputy assistant secretary of Defense for Russia and Ukraine, who testified that her staff received questions from the Ukraine Embassy about "security assistance" on July 25. That is the same day Trump urged Ukrainian President Volodymyr Zelensky during a phone call to open investigations.
Trump has repeatedly dismissed allegations of wrongdoing, often characterizing officials testifying in the impeachment inquiry as "Never Trumpers." In a separate tweet early Thursday morning, he claimed the "fake" and "corrupt" news media weren't covering the impeachment hearings fairly.
While Trump has enjoyed a cordial relationship with many of Fox News's opinion hosts, he's also shown a willingness to target some of its news anchors. Earlier this week, he blasted "Fox News Sunday" host Chris Wallace as "nasty" and "obnoxious" over an interview in which he persistently grilled House Minority Whip Steve Scalise (R-La.) about the implications of the impeachment inquiry.
Trump claimed that the "dumb and unfair interview would never have happened" in the past, prompting a rebuttal from Wallace's colleague Neil Cavuto.
"The best we can do as journalists is be fair to all, including you, Mr. President," Cavuto said on Fox News on Monday. "That's not fake doing that. What is fake is not doing that. What is fake is saying Fox never used to do that. Mr. President, we have always done that."
[The Hill]