Trump praises Pompeo for confrontation with NPR reporter: 'You did a good job on her'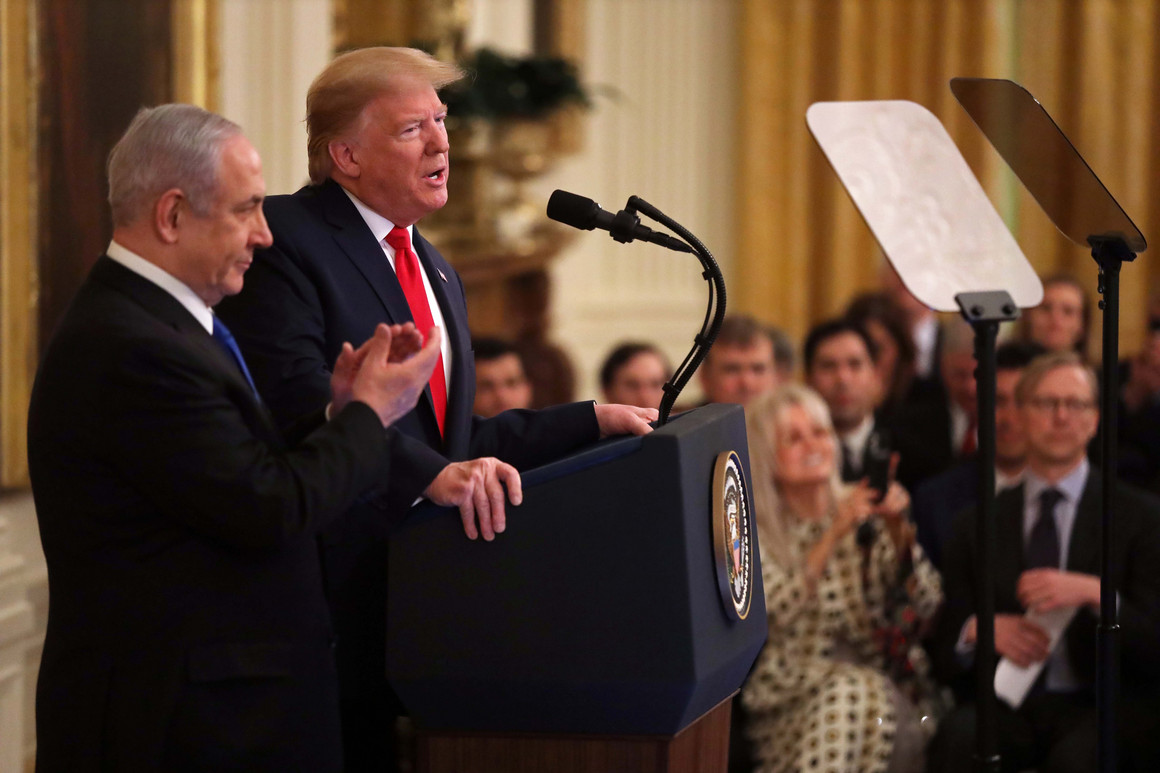 President Donald Trump on Tuesday praised Secretary of State Mike Pompeo for his testy confrontation with an NPR journalist last week, saying Pompeo "did a good job on her."
The remark — which drew raucous laughter in the East Room — came after Trump offered appreciation for Pompeo at the rollout of the White House's Middle East peace plan.
Pompeo received a standing ovation at the event, leading the president to say, "Whoa," as Pompeo waved to the room. "That was very impressive, Mike."
"That reporter couldn't have done too good a job on you yesterday," Trump said. "I think you did a good job on her, actually."
NPR's Mary Louise Kelly has alleged Pompeo exploded at her after an interview on Friday, shouting and swearing in his private living room at the State Department after she asked a series of probing questions about Ukraine.
Pompeo then reportedly asked aides to provide a blank map and made the host of "All Things Considered" point out the Ukraine, the country at the center of the Trump impeachment drama.
"Do you think Americans care about Ukraine?" Pompeo allegedly asked.
Kelly said he used the F-word in that moment and at other points in their conversation. The journalist, who has a master's degree in European Studies from Cambridge University, said she correctly identified Ukraine.
Pompeo issued his own statement on Saturday accusing Kelly of lying and suggesting the reporter said the post-interview conversation would be off the record. Pompeo also said Kelly pointed to Bangladesh instead of Ukraine.
In an op-ed published Tuesday night in The New York Times, Kelly reflected on the now-infamous interview, hoping to draw focus back to the contents of the exchange. Before asking about Ukraine, Kelly asked Pompeo a number of questions on U.S. foreign policy in Iran. In her op-ed, Kelly wanted to emphasize the risky escalations between the two countries that have manifested in strikes on military targets and heated threats.
"The point is that recently the risk of miscalculation — of two old adversaries misreading each other and accidentally escalating into armed confrontation — has felt very real," she wrote. "It occurs to me that swapping insults through interviews with journalists such as me might, terrifyingly, be as close as the top diplomats of the United States and Iran came to communicating this month."
Tensions escalated Monday when veteran NPR reporter Michele Kelemen was removed from the list of reporters authorized to fly with Pompeo on his trip to Eastern Europe.
The State Department Correspondents' Association condemned Kelemen's removal in a statement on Monday, saying her exclusion was in retaliation for Pompeo's exchange with Kelly. The White House Correspondents' Association also responded Tuesday, calling the "punitive" action taken against NPR "outrageous and contrary to American values."
"The WCHA calls on the State Department to reverse this ill-conceived decision," the statement said. "We stand with our colleagues at NPR and the State Department Correspondents' Association."
[Politico]