As others stand at attention for anthem, Trump fidgets, points, pretends to conduct the band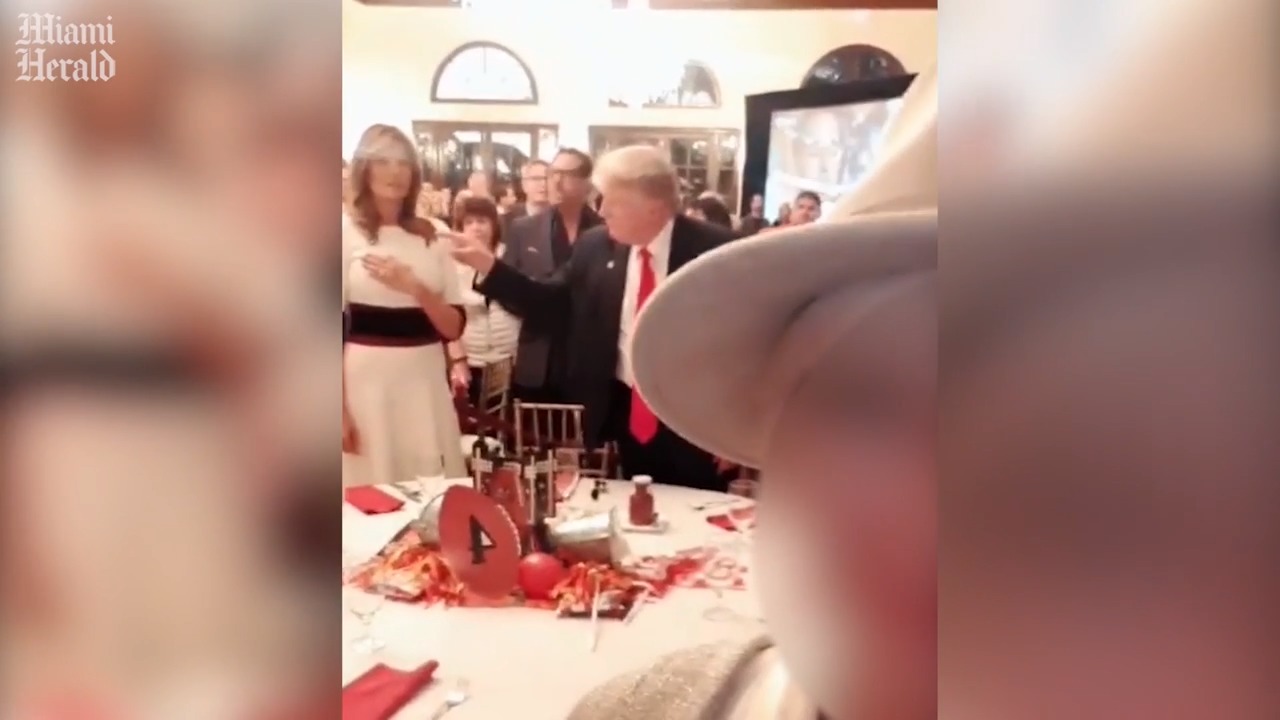 President Donald Trump has repeatedly said all Americans should "stand proudly" during the national anthem, and publicly chastises those who don't as disrespectful of the troops and the flag.
But during the national anthem at his own Super Bowl watch party Sunday night, a brief video posted to Instagram shows Trump greeting guests, adjusting his chair, and straightening his suit jacket as other attendees — including first lady Melania Trump and their teenage son — stand with their hands over their hearts. As "The Star Spangled Banner" crescendoes, Trump raises both of his hands in the air, and twirls them around as if conducting the music.
The video was included in an Instagram story by a real estate agent for a Russian-American firm who frequents Mar-a-Lago and other Trump properties and events.
Trump entered his party at Trump International Golf Club in West Palm Beach as Demi Lovato was introduced to sing the national anthem at Hard Rock Stadium, videos of the moment show. It's unclear from the video of Trump "conducting" whether the anthem you hear is Lovato, projected on screens around the room, or if a live performer is singing at the club.
(The video appears flipped, or mirrored, likely because it is an Instagram video recorded with a phone's selfie camera. That is why Melania Trump appears to have her left hand across her chest and there is a backward numeral 4 in the video. The Herald chose to retain the original orientation as it was posted on the social media site.)

The White House declined to provide an on-the-record response to requests for comment. The Trump Organization did not immediately respond. Copies of the video were sent along with the Herald's inquiries.
For years, Trump has publicly attacked NFL players who chose to kneel in protest during the anthem.
The protest movement was started by former San Francisco 49ers quarterback Colin Kaepernick in August 2016 when he refused to stand during the pregame ritual. He described his choice as a protest against racism and police brutality. Within months, other players joined Kaepernick, taking a knee and bowing their heads during the anthem.

Kaepernick is no longer in the league and claims he was blackballed for his actions.
Trump and many others called the protests disrespectful to the flag and to the troops. In 2018, the NFL announced it would begin to fine players on the field for not standing during the anthem, but would allow them to stay in the locker room if they preferred.
Megan Rapinoe, co-captain of the U.S. Women's World Cup team, refused to participate in the anthem during the 2019 World Cup, provoking Trump's ire. At Sunday's Super Bowl in Miami Gardens, Beyonce and Jay-Z stayed seated during the anthem, drawing rebukes from many, especially conservative pundits.
"Maybe they should try another country that allows them a little more freedom & success?" Fox Nation host Tomi Lahren wrote on Twitter.
The Super Bowl watch party at Trump International Golf Club in West Palm Beach, just miles from Mar-a-Lago, is a tradition that predates the Trump presidency. It has taken on a new price tag in recent years due to the need for presidential security and travel budgets. Taxpayers will shell out $3.4 million for Trump's visit to Palm Beach this past weekend, according to an analysis by the HuffPost.

Last year's party stirred controversy when Trump inadvertently posed for a selfie with a woman who turned out to be Li "Cindy" Yang, founder of the massage parlor where New England Patriots owner Robert Kraft allegedly paid for sex.

Media