Trump's Colorado rally featured an extended meltdown over 30 seconds of critical Fox News coverage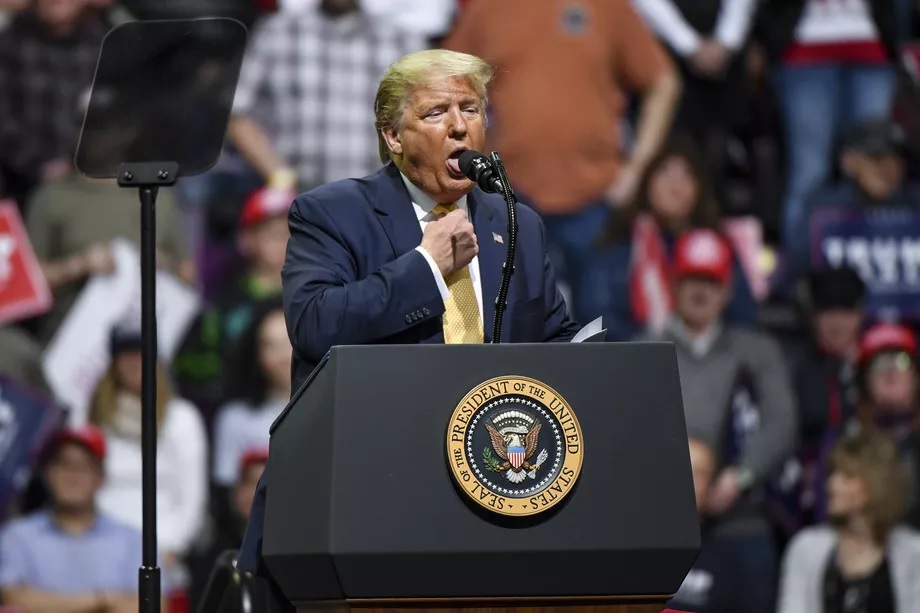 President Donald Trump devoted an inordinate amount of time during his rally on Thursday in Colorado Springs to complaining about a Fox News segment that few of the attendees were likely to have seen, featuring commentary from a journalist most of them had probably never heard of.
The roughly 20-minute display was remarkably petty — and it wasn't the only one of that sort Trump made in Colorado Springs. But it was also an illustration of the complete, blind loyalty that Trump expects from Fox News.
At issue was commentary made earlier in the day on Neil Cavuto's show by A.B. Stoddard, who works as an associate editor at the political news and polling aggregation outlet RealClearPolitics. Stoddard panned Mike Bloomberg's performance in Wednesday's Democratic presidential debate, but did so by taking a shot at Trump.
"I think that Donald Trump had disastrous debate performances. Many answers were so cringeworthy you just couldn't even believe he was still standing on the stage — and he's president," she said — the implication being that despite Bloomberg's rough night, his campaign isn't over yet, just like Trump's wasn't after his bad showings.
Even though he's traveling in Nevada, Arizona, and California this week, Trump apparently saw Stoddard's comments and lashed out at everyone involved — including former House Speaker Paul Ryan, who now serves on Fox Corporation's board.
"Could somebody at @foxnews please explain to Trump hater A.B. Stoddard (zero talent!) and @TeamCavuto, that I won every one of my debates, from beginning to end," the president tweeted. "Check the polls taken immediately after the debates. The debates got me elected. Must be Fox Board Member Paul Ryan!"
Trump was still seething hours later. Minutes into his rally in Colorado Springs, he brought up Fox News and denigrated Cavuto, saying "nobody likes him." He falsely claimed Cavuto has "taken" the place of former Fox News afternoon host Shepard Smith (though he seemed unable to remember Smith's name), then alluded to the segment with Stoddard (though he couldn't seem to remember her name either) and said, "wait a minute — I won every debate. It's true."
"I said, 'Nobody's allowed to do that. You can't do that.' We're at enough of a disadvantage with the fake news. You know, they make up 90 percent of the stories," continued Trump, as his fans took the cue to start booing the assembled media.
But that wasn't all. Trump spent much of the next 15 minutes harping on the segment and trying to debunk Stoddard's claim about him not doing well in the debates by reading off random polls from 2016.
"Look at this — 'Trump 70 percent,' next one is 18 percent, next one is 7, 4, 3, 3, 3, 2, 1, 1, 1, 1," Trump read off a sheet of paper, before tossing it away. "'Trump didn't do well in the debates!' See — they're fake news."
"Here's another one, Trump kicked ass."
By the end of his rant, Trump was conflating various conspiracy theories, blending a number of them into a single incoherent attack on his perceived enemies.
"They want to take you out. They want to change the results. They got caught spying — let's say it like it is, right? — they got caught spying on our election, fake news. Hey, fake news: take your cameras for a change, and show them the room, and show them behind you," Trump said.
The point Trump was trying to make was twofold: Polls indicate his debate performances were actually good (this is not true), and the highest-rated shows on Fox are ones that basically don't allow hosts or guests to be critical of him.
But for someone who was unaware of the backstory, the president's remarks must have sounded like nonsensical ramblings. Even for someone who was, the extended meltdown over a 30-second clip of commentary on a relatively obscure afternoon show was bizarre.