Trump dismisses reports of Russian meddling, labels them Democratic 'misinformation campaign'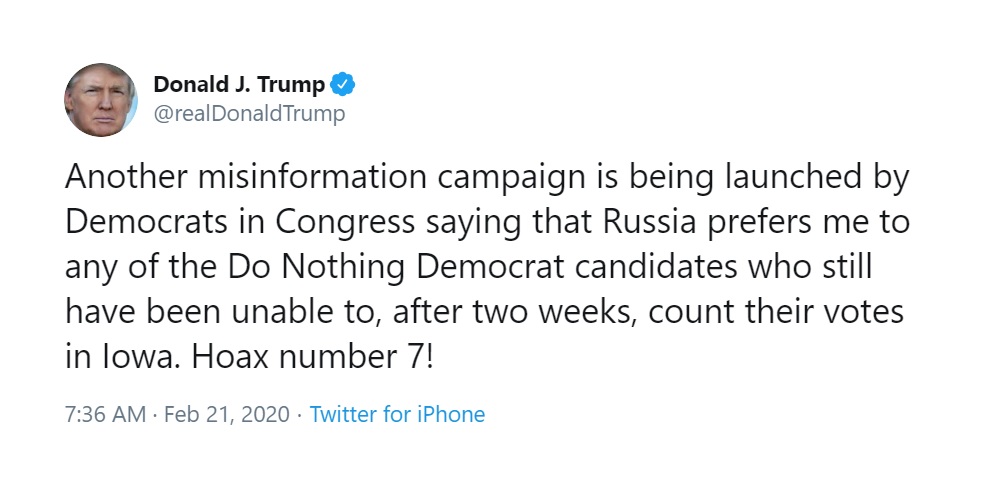 President Trump on Friday asserted that Democrats were behind recent news reports that intelligence officials informed Congress of Russian interference in the 2020 race to help his reelection, with the president dubbing it a "misinformation campaign."
"Another misinformation campaign is being launched by Democrats in Congress saying that Russia prefers me to any of the Do Nothing Democrat candidates who still have been unable to, after two weeks, count their votes in Iowa. Hoax number 7!" Trump tweeted.
The president was reacting to news first reported by The New York Times that officials told House lawmakers during a classified briefing last week that Russia was interfering in the 2020 presidential election campaign in order to try to reelect Trump.
Trump reportedly lashed out at Joseph Maguire, then his acting director of national intelligence, after the briefing for allowing it to take place.
The president has previously cast doubt on the intelligence community's assessment that Russia interfered in the 2016 election in order to help Trump and hurt his Democratic opponent, former Secretary of State Hillary Clinton. That assessment has been confirmed by investigations by Congress and the executive branch, including former special counsel Robert Mueller's investigation, which Trump has repeatedly decried as a "witch hunt."
The New York Times and Washington Post both reported Thursday on details of the closed-door intelligence briefing, as well as Trump's subsequent anger at Maguire.
House lawmakers have not publicly released any details about the classified briefing.
The news reports came shortly after Trump announced that U.S. Ambassador to Germany Richard Grenell would take over as his acting intelligence chief, a position Maguire was required by law to leave next month. Trump is now searching for a permanent replacement for the role, which requires Senate confirmation.
[The Hill]