After lying about it on Sunday, Trump on Monday repeats claim that New York asked for more ventilators than it will need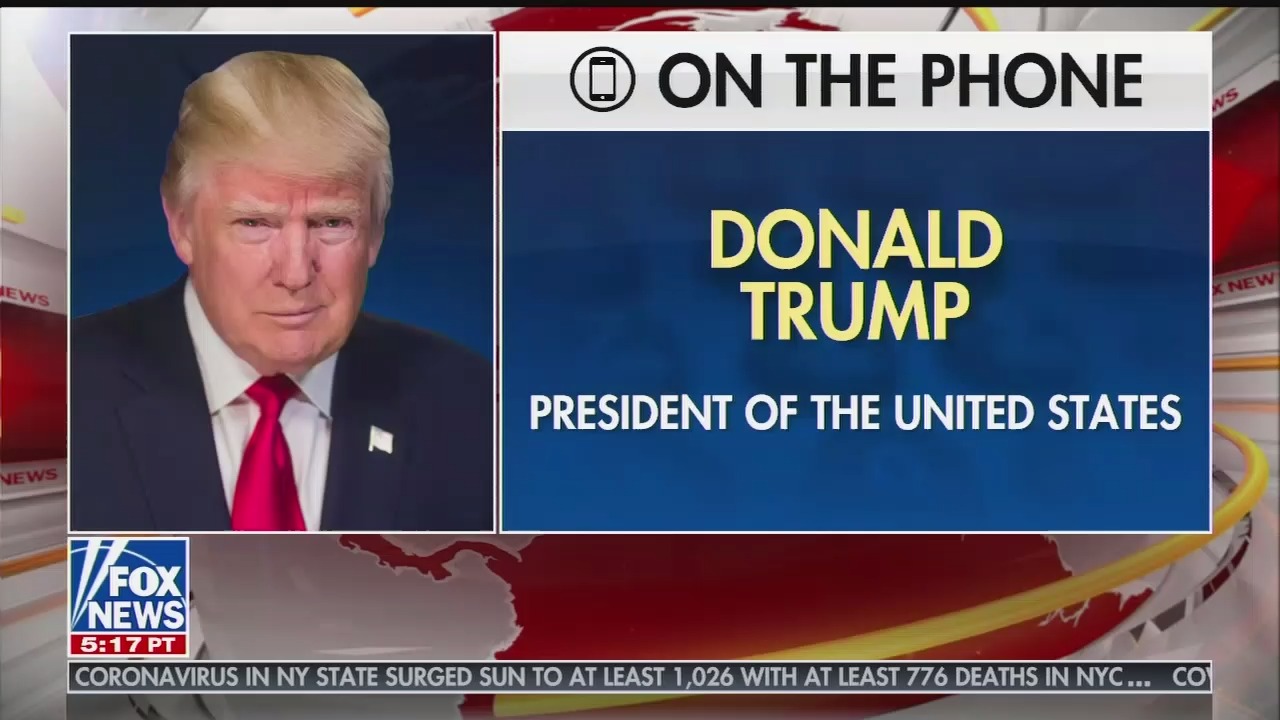 Speaking with the coronavirus task force in the White House Rose Garden on Sunday, March 29, President Donald Trump lied to PBS reporter Yamiche Alcindor that he didn't say that some equipment governors are requesting for their coronavirus responses is not actually needed (he had in fact said that to Fox's Sean Hannity.)
The following day, Trump did a 54-minute interview on Fox & Friends, and he repeated his claim that some medical equipment requested by New York and other states won't be needed, despite reports of widespread shortages of medical supplies, especially ventilators.
Predictably, none of the show hosts questioned him on his contradictory statements.

DONALD TRUMP (PRESIDENT OF THE UNITED STATES): We delivered 4,000 ventilators to New York to their warehouse which happens to be located, which is interesting, in Edison, New Jersey. It was signed off, they were delivered, and they weren't used. And we said a number of days later, why aren't you using these ventilators? I don't know what happened but we delivered thousands of them and we've delivered them to a lot of people. You know, there's a whole question about that. I think New York should be fine, based on the numbers that we see, they should have more than enough.
I mean, I'm hearing stories that they're not used or they're not used right but what we find anywhere from two to four thousand that have been sent and aren't used, you know, we've done a job. Now we're still getting more ventilators. We're going to have — after this is over, we'll be selling, they will be selling ventilators for $1 a piece. We'll have a lot of them. But, you know, they have to build them because for the most part, the whole world is short on ventilators.
On March 28, The Washington Post reported that a recent batch of medical supplies sent from an emergency federal stockpile fell far short of what state leaders have requested — Massachusetts and Maine received about 17% and 5%, respectively, of protective gear they requested, and Colorado got enough supplies "for only one full day of statewide operations." In contrast, Florida — home to a pro-Trump governor and electorate — is receiving three times the supplies it requested. (The Post did note however that aid disbursement does "not appear to follow discernible political or geographic lines.")
Throughout March, Fox shows — that Trump obsessively watches — engaged in sensationalist coverage blaming Democratic-leaning states for the viral spread of COVID-19. One particular focal point was Trump favorite Tucker Carlson speculating that homeless people and their "filth" are to blame for spreading the virus in California. Trump also demanded on March 27 that governors should be grateful for any assistance the federal government provides. The same day Hannity said that New York Gov. Andrew Cuomo should stop "whining, bitching, and complaining" about a lack of medical supplies and instead "thank Donald Trump" for the help.