Trump publicly urges China to investigate Bidens amid impeachment inquiry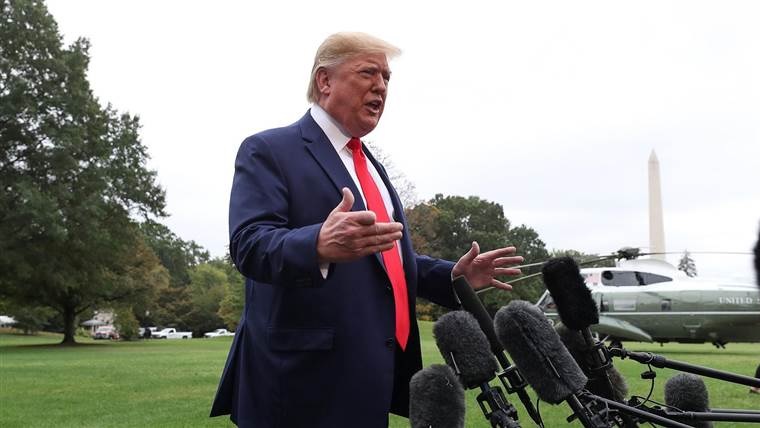 President Donald Trump urged another foreign government to probe Joe Biden and his son Thursday, saying the Chinese government should investigate the former vice president and son Hunter Biden over the latter's involvement with an investment fund that raised money in the country.
"China should start an investigation into the Bidens because what happened in China is just about as bad as what happened with Ukraine," Trump told reporters outside the White House.
While Trump said he hasn't requested Chinese President Xi Jinping investigate the Bidens, the public call mirrors the private behavior on which Democrats are partially basing their impeachment inquiry — using the office of the presidency to press a foreign leader to investigate a political rival.
It is "certainly something we can start thinking about, because I'm sure that President Xi does not like being on that kind of scrutiny, where billions of dollars is taken out of his country by a guy that just got kicked out of the Navy," Trump said Thursday of asking China to probe the Bidens. "He got kicked out of the Navy, all of the sudden he's getting billions of dollars. You know what they call that? They call that a payoff."
The U.S. in the midst of a tense trade war with China. The president, discussing progress on negotiations with Beijing on a possible trade agreement just moments prior to his remarks about the Bidens, told reporters that "if they don't do what we want, we have tremendous power."
Chinese officials will be in Washington next week in another attempt to revive talks, Trump said.
Trump, seeking to expand his corruption accusations against the Bidens beyond Ukraine, has in recent days repeatedly accused Hunter Biden of using a 2013 trip on Air Force Two with his father, then the vice president, to procure $1.5 billion from China for a private equity fund he had started.
Prior to Thursday, Trump had not called for an investigation of the matter. The White House declined to comment on Trump's remarks.
Despite Trump's accusations, there has been no evidence of corruption on the part of the former vice president or his son. In a statement, Biden's deputy campaign manager and communications director, Kate Bedingfield, said the president "is flailing and melting down on national television, desperately clutching for conspiracy theories that have been debunked and dismissed by independent, credible news organizations."
"As Joe Biden forcefully said last night, the defining characteristic of Donald Trump's presidency is the ongoing abuse of power. What Donald Trump just said on the South Lawn of the White House was this election's equivalent of his infamous 'Russia, if you're listening' moment from 2016 — a grotesque choice of lies over truth and self over the country," Bedingfield said.
Trump, during a 2016 campaign rally, encouraged the country to meddle in the 2016 election by trying to access Hillary Clinton's emails, saying, "Russia, if you're listening, I hope you're able to find the 30,000 emails that are missing."
Special counsel Robert Mueller's Russia investigation found that within hours of Trump's invitation, Russian military intelligence initiated a hack against Clinton's office. Trump and his allies have said he wasn't serious when he made the comment.
In pushing back on Trump, Biden's campaign previously pointed to a fact-check from The Washington Post that found Trump's claims false while tracing the origins of the $1.5 billion figure to a 2018 book published by conservative author Peter Schweizer.
In addition, Hunter Biden's spokesman, George Mesires, told NBC News previously that Hunter Biden wasn't initially an "owner" of the company and has never gotten paid for serving on the board. He said Hunter Biden didn't acquire an equity interest in the fund until 2017, after his father had left office.
And when he did, he put in only about $420,000 — a 10 percent interest. That puts the total capitalization of the fund at the time at about $4.2 million — a far cry from the $1.5 billion that Trump has alleged.
Trump also said Thursday that he still wants Ukraine to conduct "a major investigation" into Joe and Hunter Biden.
[NBC News]
Reality
Lawfare: Former federal prosecutor and current professor at the University of Alabama School of Law Joyce White Vance concisely yet methodically explained why Trump's statements constituted a crime.
"Trump just committed a felony violation of law by soliciting something of value in connection with a US election from a foreign government on national TV. 52 U.S. Code § 30121. Violating the law isn't necessary for Impeachment but it certainly warrants it," Vance wrote (including a citation to a statute).
She then explained how previously documented accounts of similar behavior render Trump's conduct here even more culpable than in earlier instances of his requests for foreign assistance.
"The statute requires knowledge your conduct is a crime. After the Mueller investigation, there's no way Trump was unaware this violates the law. Ukraine/China can you hear me is even worse than Russia, if that's possible, because it comes from a sitting president," she wrote.