Trump: World Would Be '100%' Better With Hussein, Gadhafi in Power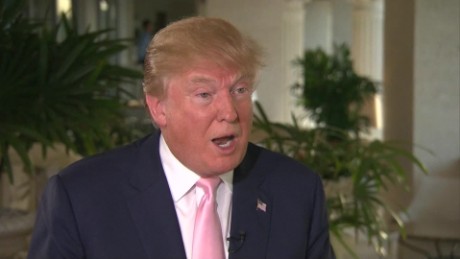 Donald Trump believes the world would be much better off if ruthless dictators like Saddam Hussein and Moammar Gadhafi were still in power.
"100%," Trump replied when asked that question in an interview with CNN's Jake Tapper that aired Sunday on "State of the Union."
Trump said he believes Iraq and Libya, the respective countries of the since-deceased dictators, would be less fractured and promote a more stable Middle East if the two had not been forcefully pushed out of power. Hussein fell from power following the U.S. invasion of Iraq in 2003 and Gadhafi was ousted following violent civil strife in 2011 that ultimately drew a NATO-led military intervention.
"I mean, look at Libya. Look at Iraq. Iraq used to be no terrorists. He (Hussein) would kill the terrorists immediately, which is like now it's the Harvard of terrorism," Trump said. "If you look at Iraq from years ago, I'm not saying he was a nice guy, he was a horrible guy, but it was a lot better than it is right now. Right now, Iraq is a training ground for terrorists. Right now Libya, nobody even knows Libya, frankly there is no Iraq and there is no Libya. It's all broken up. They have no control. Nobody knows what's going on."
Both Gadhafi and Hussein committed atrocities against their own people and were among the world's worst human rights abusers. NATO decided to intervene in Libya as Gadhafi appeared poised to commit a genocidal-like massacre.
But Trump said human rights abuses continue to plague Libya and Iraq and claimed, "They're worse than they ever were."
"People are getting their heads chopped off, they're being drowned. Right now, they are far worse than they were, ever, under Saddam Hussein or Gadhafi," he said.
(h/t CNN)
Reality
What Trump is praising Saddam Hussein and Moammar Gadhafi for here isn't justice against the evil terrorists. Saddam Hussein used this tactic of labeling political dissenters and ethnic minorities as "terrorists" and disappearing them, many times without trial. This is a violation of human rights, crimes against humanity, and murder. Hussein's atrocities are all documented at organizations like Human Rights Watch.
So this is what Trump is praising when comparing Hussein against our "weak" justice system. And if applied in the United States it would be a clear violation of the 5th and 14th amendments of the Constitution should it be applied here in the United States.
Media
https://www.youtube.com/watch?v=gC8lsLq1Eto