Four Months After Fundraiser, Trump Finally Gives $1 Million to Veterans Group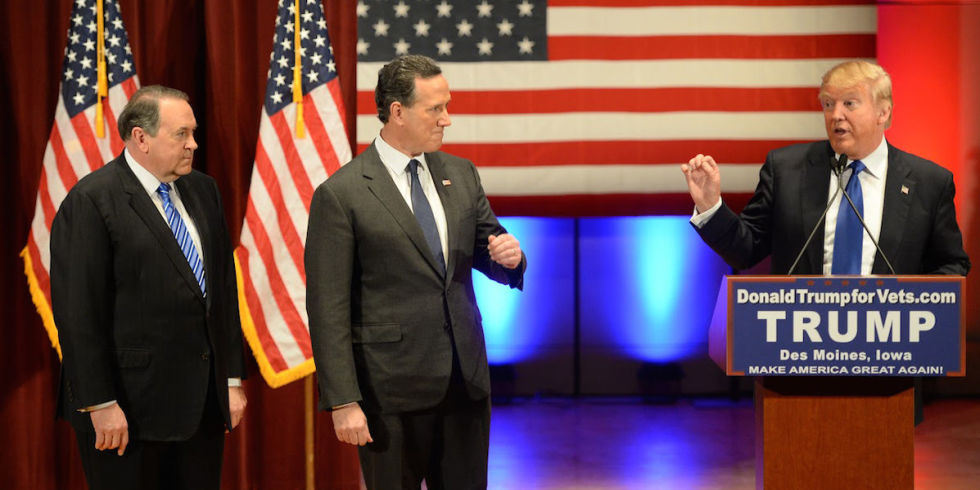 Almost four months after promising $1 million of his own money to veterans' causes, Donald Trump moved to fulfill that pledge Monday evening — promising the entire sum to a single charity as he came under intense media scrutiny.
Trump, now the presumptive Republican presidential nominee, organized a nationally televised fundraiser for veterans' causes in Des Moines on Jan. 28. That night, Trump said he had raised $6 million,  including the gift from his own pocket.
"Donald Trump gave $1 million," he said then.
As recently as last week, Trump's campaign manager had insisted that the mogul had already given that money away. But that was false: Trump had not.
In recent days, The Washington Post and other media outlets had pressed Trump and his campaign for details about how much the fundraiser had actually raised and whether Trump had given his portion.
The candidate refused to provide details. On Monday, a Post reporter used Twitter — Trump's preferred social-media platform — to search publicly for any veterans groups that had received Trump's money.
By Monday afternoon, The Post had found none. But it seems to have caught the candidate's attention.
Later Monday evening, Trump called the home of James K. Kallstrom, a former FBI official who is chairman of the Marine Corps-Law Enforcement Foundation. The charity aids families of fallen Marines and federal law enforcement officers.
Trump told Kallstrom that he would give the entire $1 million to the group, according to Kallstrom's wife.  Sue Kallstrom said she was not sure whether the money had been transferred yet. However on May 25th it was confirmed the transaction was completed.
Other big donors to Trump's fundraiser had already made their gifts weeks before. Why had Trump waited so long?
"You have a lot of vetting to do," Trump said Tuesday in a telephone interview conducted while he was flying to a campaign rally in Albuquerque.
For this particular donation, it would seem that little new vetting was required because Trump already knew the recipient well. The Marine Corps-Law Enforcement Foundation had already received more than $230,000 in donations from the Donald J. Trump Foundation — a charity controlled by Trump but largely funded by others. Last year, the group gave Trump its "Commandant's Leadership Award" at a gala in New York.
When asked Tuesday whether he had given the money this week only because reporters had been asking about it, Trump responded: "You know, you're a nasty guy. You're really a nasty guy. I gave out millions of dollars that I had no obligation to do."
Trump's call on Monday night stood in contradiction to an account given Friday by campaign manager Corey Lewandowski. "The money is fully spent," Lewandowski said then. "Mr. Trump's money is fully spent."
On Tuesday, Trump said Lewandowski would not have been in a position to know that. "I don't know that Corey would even know when I gave it out," he said.
In the same interview, Trump said the fundraiser had raised about $5.5 million for veterans overall. He said he was not sure how much of it remained to be given away.
That also contrasted with the account last week from Lewandowski, who said that about $4.5 million had been raised and that Trump's effort had fallen short of the promised $6 million because some unnamed big donors had backed out.
On Tuesday, Trump said no major contributors had reneged. "For the most part, I think they all came through," he said. "Some of them came through very late."
Trump also said he had never actually promised that the fundraiser had raised $6 million. "I didn't say six," he said.
But, in video of the event, Trump tells the crowd, "We just cracked $6 million! Right? $6 million."
Trump was told that he did, indeed, say "$6 million."
"Well, I don't, I don't have the notes. I don't have the tape of it," he said. "Play [the tape] for me. Because I'd like to hear it." Before the video could be cued up, Trump had moved on.
The story of his nighttime gift seemed to highlight a unique quality of Trump: his acute sensitivity to losing face on social media. He had routinely rejected questions about the fundraiser for veterans if they were posed in person.
"Why should I give you records?" Trump said in an interview with The Post earlier this month, when he was asked about the money. "I don't have to give you records."
Then, on Monday, a Post reporter publicly queried multiple veterans groups on Twitter, asking whether they had received personal donations from Trump. None had.
Hours later, after 10:38 p.m. Eastern time, Trump responded on Twitter: "While under no obligation to do so, I have raised between 5 & 6 million dollars, including 1million dollars from me, for our VETERANS. Nice!"
And sometime that same evening, Trump called to make the donation to James Kallstrom's group. Sue Kallstrom wasn't sure what time the call was, only that it happened after she went to bed at 8 p.m.
"I guess he wants to take care of the vets," she said. Among its other good works, the foundation provides $30,000 educational grants to the children of the fallen. "The foundation is thrilled, because the [money] is going to help a lot of people. Especially the children."
Trump's campaign has said the remainder of the donations would be given out by Memorial Day. Trump said he would ask his staff to send The Post a list of the groups that would receive that money, but his staff did not immediately provide it.
But it did appear that Trump's staff was preparing to disburse more gifts. In Boston on Tuesday, the founder of  the city's annual Wounded Vet Bike Run got a call.
"For some reason, a Trump campaign worker reached out to me today  and asked for our nonprofit number, and I gave it to 'em," said Andrew Biggio, the group's founder.
The annual motorcycle ride raises money to help veterans and their families, including giving away cars and retrofitting motorcycles for the disabled. He said the staffer did not tell him how much money to expect. "I have no idea what's coming down the pike," Biggio said.
In recent weeks, other veterans  groups had been struggling to figure out how to ask for some of Trump's remaining money. Trump had provided no formal way to apply.
Biggio said he had not formally applied but was pretty sure how he had come to be on Trump's radar.
"I served in Iraq with Donald Trump's bodyguard's son," he said.
(h/t Washington Post)
Reality
Donald Trump made good on his promise to give $1 million dollars to veteran charities, four full months after he claimed he already donated the money.
While a $1 million dollar donation to veterans groups is an amazing gesture, it is hardly altruistic. The televised fundraiser only came about so he could dodge debate questions from Megyn Kelly about his past sexist comments towards women. Then Trump attempted to extort Fox News for an illegal "quid pro quo" donation of $5 million dollars to appear at their Iowa debate. Then for the next 4 months Trump lied again and again when he boasted about his charitable donation to his rallies.
On 1/28, Trump released a press release indicating that Mr. Trump made a $1 million dollar contribution at a special event in Des Moines to benefit vets.
The conservative newspaper The Weekly Standard broke the story on 2/18 that the Trump campaign was refusing to acknowledge how much money was disbursed saying, "You can do your homework and ask the veterans' organizations." They did and found out that only about $500,000 was distributed to veterans charities at that time.
On 2/26, the conservative pundit Stuart Varney on Fox Business News corroborated The Weekly Standard's story with their own investigation by checking with the charities a full month after the fundraiser and found that only $650,000 of the supposed $6 million raised had been distributed to charities.
Two months after the fundraiser on 4/7, the not-very-liberal Wall Street Journal again talked to the veteran charities and found only $2.4 million was distributed.

Then on 5/20, The Washington Post followed up with the 22 veteran charities and only $3.1 million could be accounted for. Furthering the scandal, the Trump campaign confirmed that only $4.5 million and not $6 million was raised while claiming $1 million dollars donated by Trump was already given to the charities but refused to share evidence:
Did Trump make good on his promise to give from his personal funds?

"The money is fully spent. Mr. Trump's money is fully spent," Lewandowski said.

To whom did Trump give, and in what amounts?

"He's not going to share that information," Lewandowski said.
As recent as 5/23, a day before this story broke, Donald Trump tweeted and was still claiming the money was donated.
And finally 5/24 The Washington Post concluded its investigation which uncovered the story that Trump never gave any money to a veterans charity. Once that fact came to light then, and only then, did Trump cut a check to a single charity.
Then, to the surprise of no one, Trump insulted the reporter who caught him trying to cheat our veterans, then later at a press conference tried to turn this around on the "dishonest" media.
As a side note, this is the first time Donald Trump has given any of his personal money to a charity of any kind in over 5 years.
But Donald Had to Vet the Charity!
Donald Trump donated $100,000 dollars to the same charity in April of 2015. As far as the Trump Organization is concerned, the Marine Corps-Law Enforcement Foundation was already a trusted charity.
Media
Links
The Washington Post explains their methodology for uncovering the story.