Trump: Anti-Semitic Tweet Showed 'a Sheriff's Star,' Not Star of David
Donald Trump brushed off concerns Monday about possible anti-Semitic imagery in a tweet posted from his account.
The tweet, which was posted and deleted Saturday, featured a picture of Hillary Clinton on a backdrop of money next to a six-sided star that read "Most Corrupt Candidate Ever!" It drew widespread backlash almost immediately for resembling the Star of David, an important Jewish symbol.
After the tweet was deleted, a revised graphic was posted to Trump's Twitter account, this time with a circle subbed in for the star.
The presumptive Republican nominee tweeted Monday:
Dishonest media is trying their absolute best to depict a star in a tweet as the Star of David rather than a Sheriff's Star, or plain star!

— Donald J. Trump (@realDonaldTrump) July 4, 2016
Trump campaign adviser Ed Brookover echoed his boss, telling CNN's "New Day" on Monday morning that there was "never any intention of anti-Semitism," adding that Trump has denounced it in the past.
"Not every six-sided star is a Star of David," Brookover said. "We have corrected this tweet and have moved on."
Former Trump campaign manager Corey Lewandowski, who is now a paid CNN commentator, pushed back against criticism on Saturday, saying the uproar was "political correctness run amok."
(h/t Politico)
Reality
Donald Trump placed the blame of this controversy entirely at the feet of the media and claimed that what was tweeted out was simply just a sheriff star. However this "sheriff's star" defense does not address the ethical and logical gaps about Trump's controversial tweet.
First, let's look at some sheriff stars. This is an actual 6-pointed sheriff's star. It has rounded points.
This is a graphic clip-art of a 6-pointed sheriff's star. It again has rounded points and is encased in a circle.
This is the Star of David. It has no circle surrounding it and has sharp points.
Second, there was no explanation for how the image made its way from a neo-Nazi message board to his Twitter followers. Mic.com discovered that Donald Trump's Twitter account wasn't the first place the meme appeared. The image was previously featured on /pol/ — an Internet message board for the alt-right, a digital movement of neo-Nazis, anti-Semites and white supremacists newly emboldened by the success of Trump's rhetoric — as early as June 22, over a week before Trump's team tweeted it.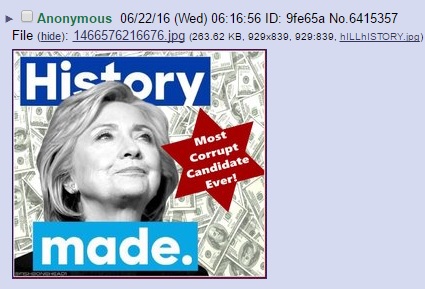 The watermark on the lower-left corner of the image leads to a Twitter account that regularly tweets violent, racist memes commenting on the state of geopolitical politics. After being uncovered as the origin of the meme that Twitter user had deleted the account.
That means somebody on the Trump campaign saw the image on a white supremacist message board or Twitter account, copied the image, edited the image, and posted it to Trump's twitter account.
Finally, as previously reported, someone in the Trump campaign noticed the symbol, voluntarily took the tweet down, and re-posted an edited meme now with a poorly photoshopped circle over the star. So someone in his campaign had to be aware of the imagery and what it could construe.
He just put the circle on top of the Star of David. You can still see its points. pic.twitter.com/PjNSp38T3X

— southpaw (@nycsouthpaw) July 2, 2016