Trump Reportedly Asked Intelligence Chiefs to Publicly Push Back Against FBI Probe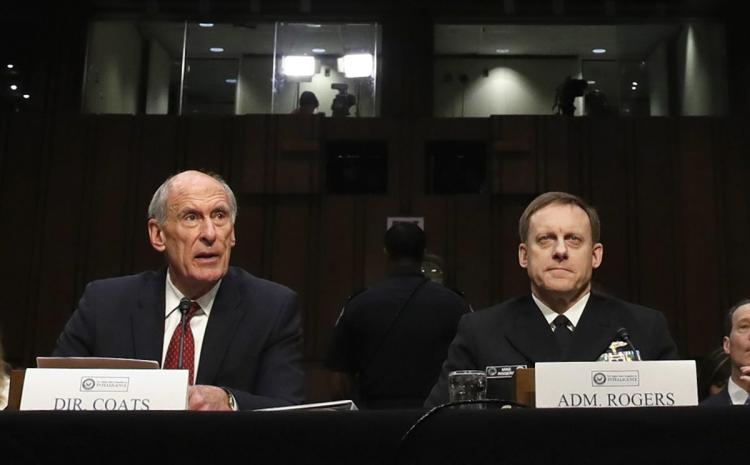 A new report states that President Trump asked top intelligence leaders to join him in publicly denying that his presidential campaign coordinated with the Russian government's efforts to interfere with the 2016 election.
The Washington Post reports that Director of National Intelligence Daniel Coats and Michael S. Rogers, Director of the National Security Agency, were both asked by Trump to "push back" against the FBI after James Comey announced that a collusion investigation was underway. Trump's request reportedly came after the former FBI director confirmed the probe before the House Intelligence Committee, and both Coats and Rogers declined Trump's requests.
From WaPo:
Trump made his appeal to Coats days after Comey's testimony, according to officials.

That same week, Trump telephoned Rogers to make a similar appeal.

In his call with Rogers, Trump urged the NSA director to speak out publicly if there was no evidence of collusion, according to officials briefed on the exchange.

Rogers was taken aback but tried to respectfully explain why he could not do so, the officials said. For one thing, he could not comment on an ongoing investigation. Rogers added that he would not talk about classified matters in public.@realDonaldTrump asked intel. chiefs to publicly deny #TrumpRussia and obstruct the @FBI investigation.
Intelligence officials have expressed that complying with the Trump Administration's request would have had a major, negative impact on the credibility for their agencies.
"The problem wasn't so much asking them to issue statements," said one source who knew of Trump's request for Coats. "It was asking them to issue false statements about an ongoing investigation.
The report also states that senior White House officials spoke with other intelligence officials, asking if there was a way for them to intervene or "shut down" Comey's investigation:
In addition to the requests to Coats and Rogers, senior White House officials sounded out top intelligence officials about the possibility of intervening directly with Comey to encourage the FBI to drop its probe of Michael Flynn, Trump's former national security adviser, according to people familiar with the matter. The officials said the White House appeared uncertain about its power to influence the FBI.

"Can we ask him to shut down the investigation? Are you able to assist in this matter?" one official said of the line of questioning from the White House.
The report comes nearly a week after it was reported that Comey kept a memo about how Trump asked him to cease his investigation into Michael Flynn.
In the past, there have been stories about how the Trump Administration was asking high-ranking intelligence officials and Congressional figures to denounce news stories about about how Trump's staffers were connected to Russia. Trump fired Comey from his position approximately two week ago, and the resulting political storm still looms over the White House.
Trump has previously indicated that the Russia investigation was a motivating factor in his decision to fire Comey. During a recent meeting with Russian officials, Trump not only shared classified intelligence with them, he also called Comey a "nut job" and said his departure would alleviate pressure from the investigation.
Update
NBC national security reporter Ken Dilanian has corroborated WaPo's report.
NBC News has confirmed the Post report that Trump asked Coats and Rogers to say there was no collusion, a request they found inappropriate.

— Ken Dilanian (@KenDilanianNBC) May 22, 2017