Trump says he is under investigation, lashes out at Justice Department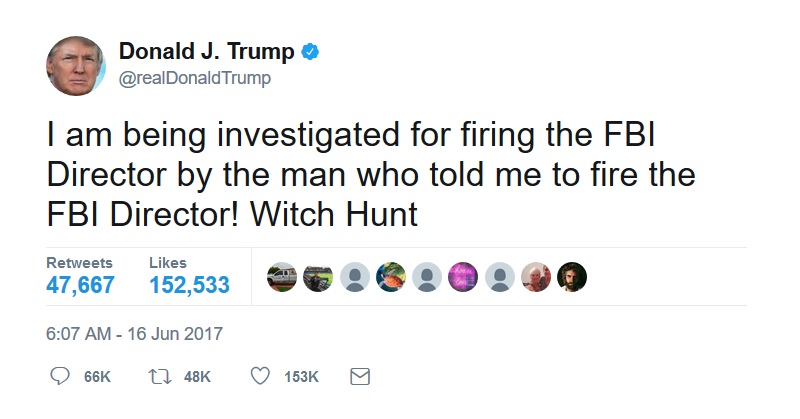 President Donald Trump tweeted on Friday that he is under investigation in the probe into Russia's involvement in the 2016 presidential election.
He also appeared to criticize Deputy Attorney General Rod Rosenstein, who appointed a special counsel to oversee the investigation.
I am being investigated for firing the FBI Director by the man who told me to fire the FBI Director! Witch Hunt

— Donald J. Trump (@realDonaldTrump) June 16, 2017
Special counsel Robert Mueller is seeking to determine whether Trump attempted to obstruct justice, following the president's firing of former FBI Director James Comey, who had been leading the investigation of Russian interference, The Washington Post reported this week.
Rosenstein wrote the memo that suggested that Trump fire Comey over his handling of an investigation into Hillary Clinton's use of a private email server while secretary of State. Trump later contradicted his administration's rationale, saying he had been thinking about the Russia investigation when he fired Comey.
In a striking testimony before Congress last week, Comey said he believed Trump had sought to persuade him to drop an investigation into then National Security Advisor Michael Flynn's ties to Russia.
Trump's acknowledgement of the reported obstruction of justice investigation came after a series of tweets in which he renewed his assertions that he is the subject of a "witch hunt."
The Washington Post cited unidentified officials when it reported Mueller is investigating Trump. Rosenstein issued a statement on Thursday warning Americans to "be skeptical of anonymous allegations."
"Americans should exercise caution before accepting as true any stories attributed to anonymous 'officials,' particularly when they do not identify the country — let alone the branch or agency of government — with which the alleged sources supposedly are affiliated," Rosenstein said.
A senior Justice Department official told NBC News that no one pushed Rosenstein to issue the statement.
"This was 100 percent Rod. He's tired of reading all these stories based on anonymous sources claiming to know what the Justice Department and the FBI are doing," the official said.
[NBC News]