Trump targets Jemele Hill following ESPN anchor's suspension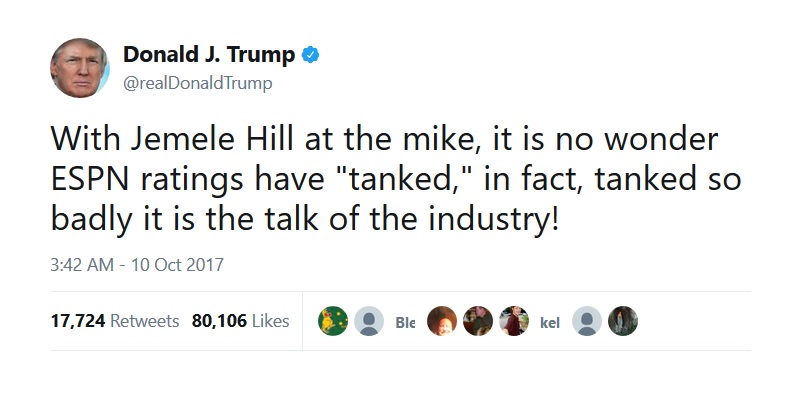 Donald Trump lashed out at ESPN anchor Jemele Hill on Tuesday morning, one day after she was suspended by her employer for her public criticism of two NFL owners' directives over silent player protests during the national anthem.
The Disney-owned broadcaster suspended Hill for two weeks on Monday for a series of tweets in response to Dallas Cowboys owner Jerry Jones' comments that he would have benched any Cowboys player who "disrespects the flag" by kneeling during the national anthem. Hill had previously tweeted that Trump is a "bigot" and "a white supremacist".
Hill, who had said that those who took objection to Jones' remark should look at the team's advertisers, later tweeted that she was not urging an NFL boycott but pointing out the "unfair burden" for players on teams with rules against protesting the anthem. She also referenced Miami Dolphins owner Stephen Ross, whose team will now be required to stand for the anthem or remain in the locker room after "Trump changed that whole paradigm of what protest is".
If you strongly reject what Jerry Jones said, the key is his advertisers. Don't place the burden squarely on the players. https://t.co/Gc48kchkuv

— Jemele Hill (@jemelehill) October 9, 2017
Just so we're clear: I'm not advocating a NFL boycott. But an unfair burden has been put on players in Dallas & Miami w/ anthem directives.

— Jemele Hill (@jemelehill) October 9, 2017
If fans really are that upset about what JJ & Stephen Ross have done, don't call the players sellouts, but you're watching every Sunday.

— Jemele Hill (@jemelehill) October 9, 2017
Trump took aim at the ESPN veteran in a tweet on Tuesday morning, writing: "With Jemele Hill at the mike, it is no wonder ESPN ratings have 'tanked,' in fact, tanked so badly it is the talk of the industry!"
Hill's co-anchor on the nightly SportsCenter highlight show, Michael Smith, sat out Monday night's telecast in a decision a network source characterized as mutually made by Smith and ESPN. He will anchor the show alone for the duration of Hill's suspension, the network said.
"Jemele Hill has been suspended for two weeks for a second violation of our social media guidelines," the network said in a statement. "She previously acknowledged letting her colleagues and company down with an impulsive tweet. In the aftermath, all employees were reminded of how individual tweets may reflect negatively on ESPN and that such actions would have consequences. Hence this decision."
Hill's initial criticisms of Trump last month prompted also a response from the White House, albeit through press secretary Sarah Sanders, who said during a briefing that Hill's comments about Trump were "a fireable offense by ESPN".
"I think that's one of the more outrageous comments that anyone could make," Sanders said at the time.
The NFL Players Association has defended players' right to protest.
Trump's former Democratic rival in the 2016 presidential race, Hillary Clinton, also backed the players, saying in a speech on Monday, "They are protesting racism and injustice, and they have every right to do so."
The president continued his broadside on the National Football League in a separate tweet on Tuesday morning, saying the league should not be given tax breaks, a long-simmering controversy surrounding America's richest league, which is expected to take in $14bn in revenue this year.
"Why is the NFL getting massive tax breaks while at the same time disrespecting our Anthem, Flag and Country? Change tax law!" Trump wrote.
It was not clear what exactly Trump was demanding, and representatives for the White House did not immediately reply to a request for comment.
The NFL gave up its federal tax-exempt status in 2015, according to media reports, although US states and localities still offer the multi-billion dollar league tax breaks in order to attract teams and to finance stadiums.
Trump has been on a tear for weeks against NFL players who kneel during the national anthem played before games, saying the gesture disrespects the country. His strongly worded call last month for players who did this to be fired touched off an initially sharp response, including from some team owners and coaches.
The players' silent demonstration, which began last year in protest against police violence toward racial minorities, was embraced more widely in reaction to Trump's more recent comments, with more players taking the knee while others chose to lock arms.
A number of Republican lawmakers suggested in September that tax sweeteners should end given the protests, the Washington Post reported.
On Sunday, vice president Mike Pence walked out of an NFL game after some players knelt. The next day, Trump himself invoked the episode in a fundraising email.
Trump invoked Mike Pence's walkout from yesterday's 49ers-Colts game in a fundraising mailer that went out today. pic.twitter.com/IhrWKuH37m

— Bryan Armen Graham (@BryanAGraham) October 9, 2017
Critics of Trump, a Republican, have said he is fanning a controversy over the national anthem at NFL games to distract from pressing issues his administration is dealing with, from a powerful hurricane that devastated Puerto Rico to tensions with North Korea over its nuclear weapons program.
The first amendment of the US Constitution bars the government from limiting free speech, including prohibiting protests around the national anthem or punishing people who choose not to stand. The national anthem is played before every NFL football game and many other sporting events.