Senior HHS official placed on leave for promoting unfounded claims and conspiracy theories on social media
A top official at the Department of Health and Human Services has been placed on administrative leave after a CNN KFile inquiry while the agency investigates social media postings in which he pushed unfounded smears on social media.
Jon Cordova serves as the principal deputy assistant secretary for administration at HHS. A KFile review of Cordova's social media accounts found that he pushed stories filled with baseless claims and conspiracy theories, including stories that claimed Gold Star father Khizr Khan is a "Muslim Brotherhood agent" and made baseless claims about Sen. Ted Cruz's personal life.
"Mr. Cordova is currently on administrative leave while we look into this issue further," a HHS spokesperson said in a statement.
Cordova did not respond to a request for comment.
Cordova joined HHS in February of 2017, initially as part of the Office of the White House Liaison. In his current role, Cordova oversees day-to-day operations for the Office of Human Relations, Office of the Chief Information Officer, Office of Security and Strategic Information, Equal Employment Opportunity Compliance and Operations Office and the Program Support Center, according to his biography posted on the HHS website.
Prior to joining HHS, Cordova served as a Trump delegate from California to the Republican National Convention and worked in communications for Donald Trump's campaign in California.
During the 2016 presidential campaign, Cordova routinely promoted stories on social media that pushed fringe claims about Trump's opponents that have no basis in fact.
In July 2016, Cordova shared a story that asserted without evidence that Khan, who spoke out against Trump at the 2016 Democratic National Convention, was a "Muslim Brotherhood agent" and "a Muslim plant working with the Hillary Clinton campaign." He also shared another story that falsely claimed the Clinton Foundation paid Khan.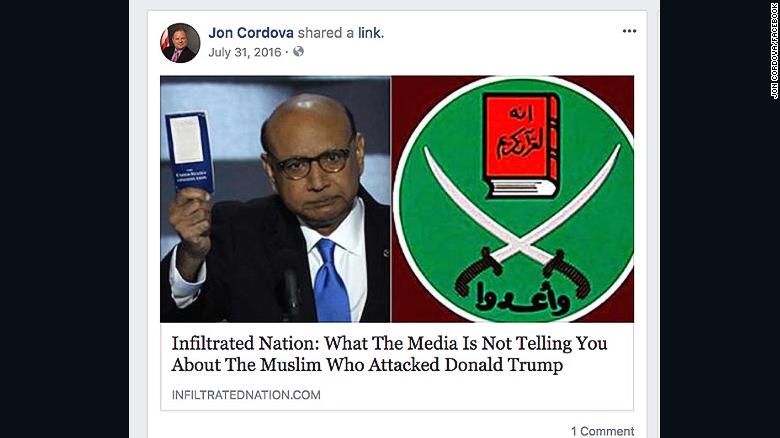 Cordova also shared unfounded and false stories that claimed Cruz, a Texas Republican frequented prostitutes, was involved in a sex scandal and was hiding various public records related to his birth and education.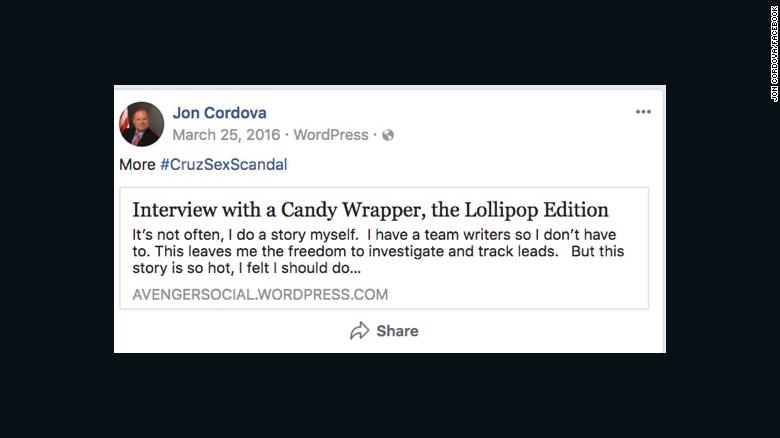 In a post in 2013, Cordova called Democrats "the real racists" and said that 95% of blacks would not have voted for President Barack Obama if he were white.
In a December 2016 comment on Facebook on an article about a nonprofit selling access to President Trump during the inauguration, Cordova called Clinton "a slimy trailer trash huckster."
Cordova also repeatedly shared fake or conspiratorial stories, including one that claimed that Clinton was photoshopping her rallies to make them look bigger, one with a fake quote from Clinton about Democratic voters, one that claimed NBA star Dwyane Wade endorsed Trump and one with a photoshopped picture of a black man holding a sign that read, "No mother should have to fear for her son's life every time he robs a store."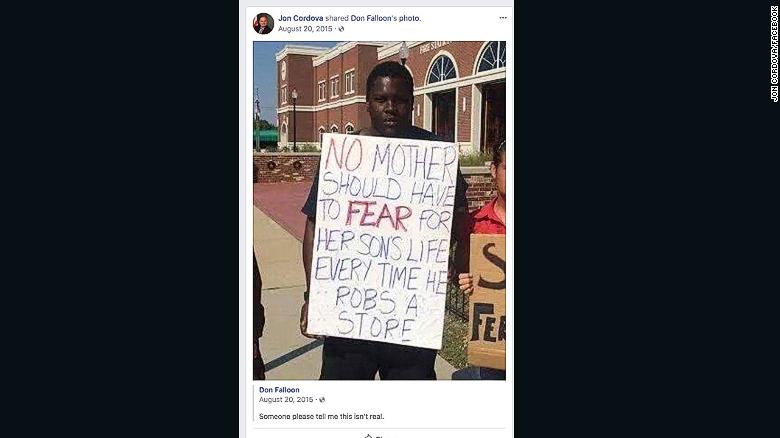 Cordova also struck a conspiratorial tone on his since-scrubbed Twitter account, of which only a few tweets are archived on several websites.
In one tweet, Cordova called for a boycott of Budweiser because the company supported "jihadis" over white immigration.
In another tweet, Cordova speculated the reason the identity of the shooter at Umpqua Community College in 2015 hadn't been made public was because he was a Muslim. The shooter was not a Muslim.
In another tweet, Cordova compared MoveOn.org and the Black Lives Matter movement to Nazis.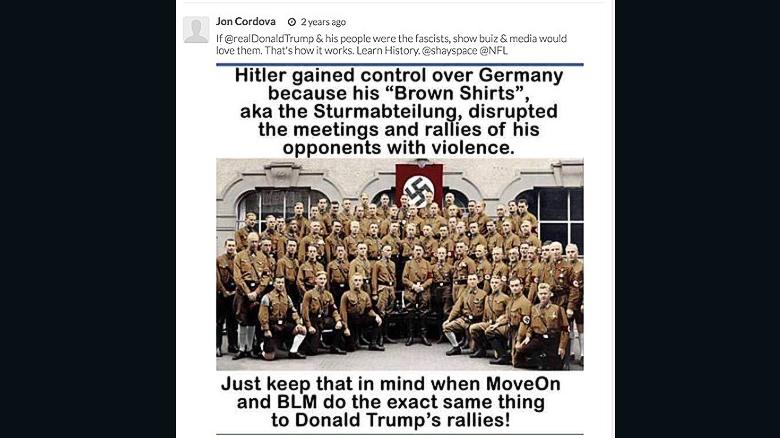 [CNN]