Trump Says 'Slippery' Comey 'Was Not Fired' Because of Russia Probe, After Suggesting He Was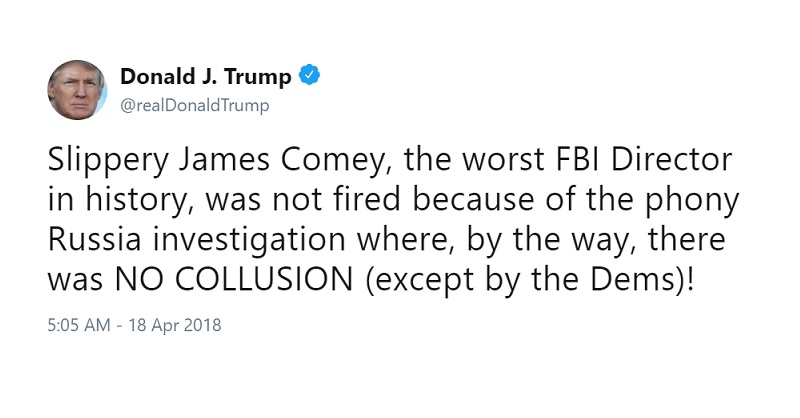 President Donald Trump pushed back on suggestions that he fired former FBI director James Comey because of the investigation into his campaign's ties to Russia — a key tenet of allegations he sought to obstruct justice.
Of course, the president has not always been so clear on this front. After Comey was fired, the White House claimed it was based on a recommendation from Deputy Attorney General Rod Rosenstein over Comey's handling of the Clinton email probe.
But then, Trump was interviewed by Lester Holt in May 2017, and said the following: "In fact, when I decided to just do it, I said to myself, I said, 'You know, this Russia thing with Trump and Russia is a made up story, it's an excuse by the Democrats for having lost an election that they should have won.'" (Watch above.)
Trump also reportedly told Russian officials that his firing of Comey, who he called "a real nut job, took the "pressure" he was facing over the Russia probe off.
"I just fired the head of the F.B.I. He was crazy, a real nut job," Trump said, according to a U.S. official. "I faced great pressure because of Russia. That's taken off."
In light of Comey's media blitz to promote his new memoirs, A Higher Loyalty, Trump is attempting to set the record straight, tweeting: "Slippery James Comey, the worst FBI Director in history, was not fired because of the phony Russia investigation where, by the way, there was NO COLLUSION (except by the Dems)!"
Slippery James Comey, the worst FBI Director in history, was not fired because of the phony Russia investigation where, by the way, there was NO COLLUSION (except by the Dems)!

— Donald J. Trump (@realDonaldTrump) April 18, 2018
[Mediaite]