Leak of Mueller Russia probe questions 'disgraceful', Trump tweets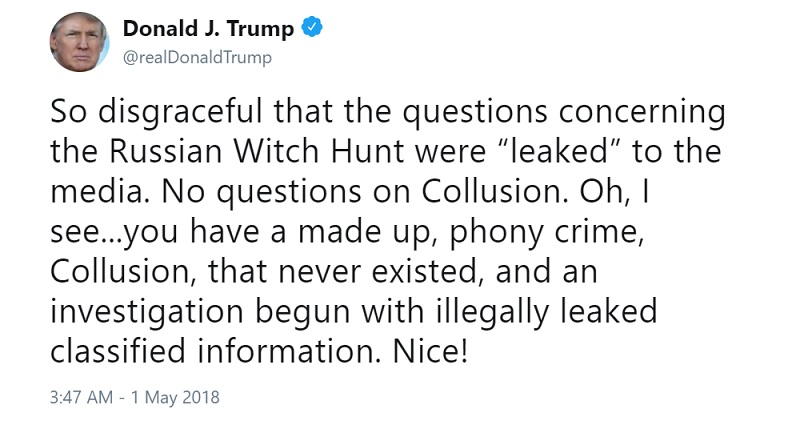 President Trump said Tuesday it's "disgraceful" that a list of questions that the special counsel investigating Russian election interference wants to ask him was "leaked" to the news media.
The New York Times late Monday published the nearly four dozen questions given to Trump's attorneys, covering Trump's motivations for firing FBI Director James Comey last May and contacts between Trump campaign officials and Russians.
"It is so disgraceful that the questions concerning the Russian Witch Hunt were 'leaked' to the media," Trump tweeted Tuesday. "No questions on Collusion. Oh, I see…you have a made up, phony crime, Collusion, that never existed, and an investigation begun with illegally leaked classified information. Nice!"
In a second tweet, Trump said: "It would seem very hard to obstruct justice for a crime that never happened."
Trump repeatedly has called the investigation by special counsel Robert Mueller a "witch hunt" and insists there was no collusion between his campaign and Russia. Trump has also accused Comey of leaking classified information. Mueller was appointed to oversee the investigation by the deputy attorney general after Trump fired Comey in May 2017.
Although Mueller's team has indicated to Trump's lawyers that he's not considered a target, investigators remain interested in whether the president's actions constitute obstruction of justice and want to interview him about several episodes in office.
Many of the questions obtained by the Times center on the obstruction issue, including his reaction to Atty. Gen. Jeff Sessions' recusal from the Russia investigation, a decision Trump has angrily criticized.
Trump lawyer Jay Sekulow declined to comment to the Associated Press on Monday night, as did White House lawyer Ty Cobb.
The questions also touch on Russian meddling and whether the Trump campaign coordinated in any way with the Kremlin. In one question obtained by the Times, Mueller asks what Trump knew about campaign staff, including his former campaign chairman Paul Manafort, reaching out to Moscow.