Trump lauds Indiana GOP Senate candidate, knocks Donnelly as 'Sleepin' Joe'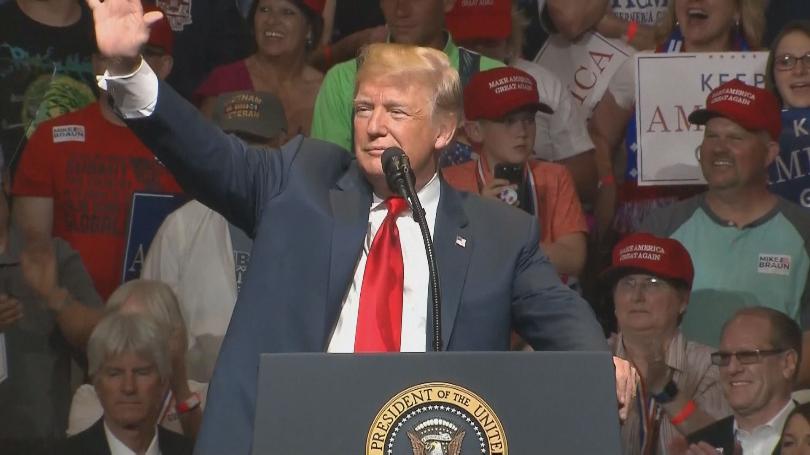 President Trump on Thursday night heaped praise on newly minted Indiana GOP Senate nominee Mike Braun while escalating attacks on his opponent, incumbent Sen. Joe Donnelly (D-Ind.).
During a campaign rally in Elkhart, Ind., Trump lauded Braun as an effective businessman and someone who will be a loyal backer of the president's agenda while characterizing Donnelly as simply awaiting marching orders from Senate Minority Leader Charles Schumer (D-N.Y.).
"This November Indiana will face an important choice: you can send a really incredible swamp person back to the Senate like Joe Donnelly, or you can send us a Republican like Mike Braun to drain the swamp," Trump said, adding Donnelly "will do whatever Chuck Schumer and [House Minority Leader] Nancy Pelosi tell him what to do."
"If Joe Donnelly, Sleepin' Joe and the Democrats, get back into power, remember what I said: they will raise your taxes, they will destroy your jobs, and they are going to knock the hell out of your borders," he added.
Trump took repeated jabs at Donnelly as Republicans target the vulnerable incumbent, one of 10 Senate Democrats running for reelection this year in states that Trump carried in the 2016 election.
The president on Thursday railed against the Democratic senator for his opposition the GOP's tax plan and efforts to repeal and replace ObamaCare while underscoring Braun's business experience.
"Mike Braun will be a great, great representative of the people of Indiana," Trump said. "He's a winner and very successful businessman."
Trump invited Braun up to the stage, where the Republican nominee touted his support for the president, an issue that dominated the contentious Senate GOP primary that ended Tuesday.
"I'm a businessman and outsider just like our president, and you can count on me to be a true reinforcement and the guy who's going to retire Joe Donnelly," Braun said.
The decision to hold a rally two days after Braun won is seen as a way to unify Republicans after a brutal primary.
Republicans see Donnelly's seat as a top pickup opportunity and a chance to expand their slim 51-seat majority.
But Braun, a former state legislator, endured attacks about his business record and self-funding during the primary that Democrats have already seized on ahead of the general election.
And Democrats sought to neutralize the president's attacks ahead of his Thursday rally. Hours before Trump's visit to Indiana, Donnelly's campaign launched a TV ad that highlights his bipartisan work in Washington.
"It's okay that the President and Vice President are here today for politics, but problems only get solved when you roll up your sleeves and put in the hard work," Donnelly said in a statement after the rally. "I'm Indiana's hired help in the Senate because I don't work for any president or any political party – I work for Hoosiers, and that will never change."
Vice President Pence, a former Indiana governor, touted Braun at the rally Thursday night, lauding the Senate nominee as a job creator and a stronger supporter of Trump's agenda. The vice president also ticked through a list of votes where Donnelly didn't align with Trump.
"Hoosiers … deserve to know when the president asked Joe Donnelly to support policies Indiana needs, Joe Donnelly voted no," Pence said Thursday night. "Mike Braun will stand up for Hoosiers, and Mike Braun will stand with President Trump."
Trump and Republicans are facing strong headwinds ahead of November. The president's party historically loses seats in the first midterm election. Plus, Trump's underwater approval ratings could hurt GOP incumbents running in competitive districts and states.
But Trump has expressed confidence that Republicans will do well in the November midterms. And he's made repeated overtures to voters to not get "complacent" in the fall so that Republicans can protect their majorities in the House and Senate.
"It's all at stake in November," Trump said. "The strides that we're making—it can also disappear if you put fools and if you put the wrong people in."
"You have to work everyday from now and until November to elect more Republicans to continue making America great again."
[The Hill]