Trump tweets Kim Jong Un an invitation to 'shake his hand' at DMZ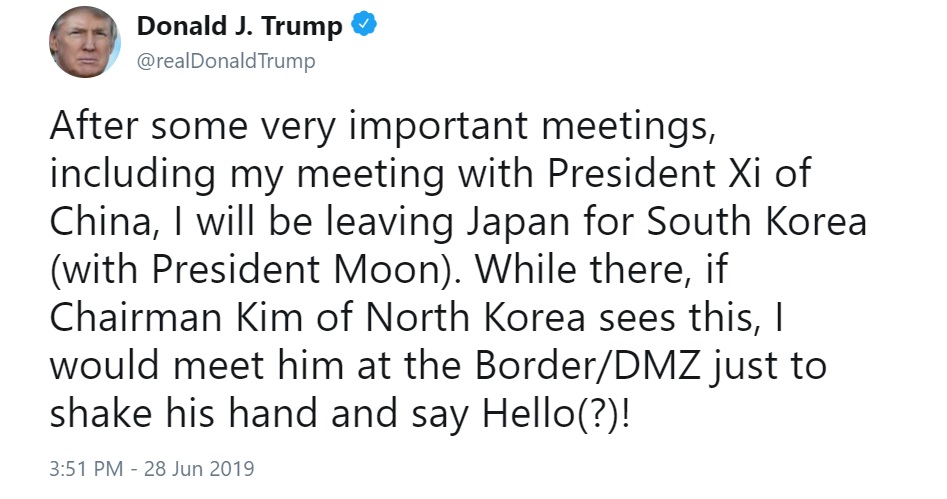 President Donald Trump extended what he claimed was a spontaneous invitation to North Korean dictator Kim Jong Un for a handshake on the highly fortified Korean Demilitarized Zone, lending his upcoming visit to Seoul new drama.
In a Saturday morning tweet from his hotel in Japan, Trump said if Kim was interested he'd be open to a greeting on the border."If Chairman Kim of North Korea sees this, I would meet him at the Border/DMZ just to shake his hand and say Hello(?)!" Trump wrote.
Trump is due to arrive in Seoul, South Korea, on Saturday evening, and is scheduled for talks with the South Korean President on Sunday before returning to Washington.
During a brief photo-op with reporters Saturday, Trump said he "put out a feeler" to Kim for a potential handshake on the DMZ in order to advance their warm friendship.
"All I did was put out a feeler if he'd like to meet," Trump told reporters in Japan, where he is meeting with leaders on the sidelines of the G20. "He sent me a very beautiful birthday card.
"Trump told reporters later Saturday that Kim was "very receptive to meeting."
"I can't tell you exactly but they did respond very favorably," Trump said of the possibility of a meeting.Trump also told reporters he would feel "very comfortable" stepping foot in North Korea when he visits the DMZ Sunday.
"Sure I would," Trump said when asked whether he would step foot into the country."I feel very comfortable doing that. I would have no problem," Trump said in Osaka.No sitting US president has ever visited North Korea, though former presidents Jimmy Carter and Bill Clinton have made the trip.
Trump also insisted it would not be a bad sign if Kim stands him up."No, of course I thought of that," Trump said when asked if it should be interpreted as a bad sign if Kim failed to meet him."It's very hard," he said of the US-North Korea situation, noting that Kim "follows my Twitter."Asked if he knew that to be a fact, Trump said his team "got a call very quickly" after his tweet.
[CNN]