Trump accuses media of 'phony' reporting on migrant detention centers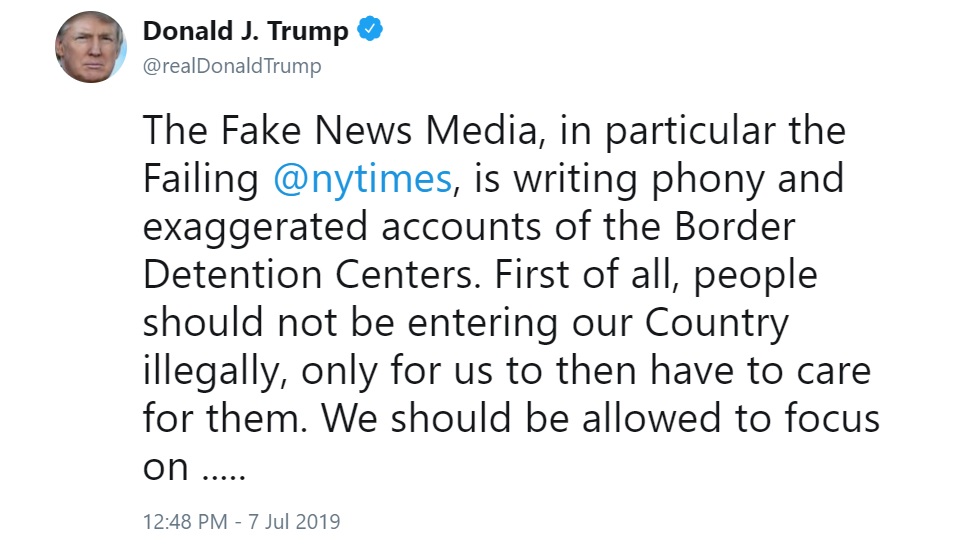 President Trump on Sunday accused the media of reporting "phony and exaggerated accounts" of conditions at migrant detention centers along the border in the wake of two bombshell reports from the Department of Homeland Security's (DHS) watchdog.
"The Fake News Media, in particular the Failing @nytimes, is writing phony and exaggerated accounts of the Border Detention Centers," Trump tweeted.
"First of all, people should not be entering our Country illegally, only for us to then have to care for them. We should be allowed to focus on United States Citizens first. Border Patrol, and others in Law Enforcement, have been doing a great job. We said there was a Crisis – the Fake News & the Dems said it was 'manufactured.'"
"Now all agree we were right, but they always knew that. They are crowded (which we brought up, not them) because the Dems won't change the Loopholes and Asylum. Big Media Con Job!" he added.
The reports from the DHS Office of Inspector General covered the conditions at facilities near El Paso, Texas, and in the Rio Grande Valley.s
The government watchdog found severe overcrowding, migrants being held too long and dirty conditions at many of the facilities.
A group of lawyers who visited a Border Patrol station in Clint, Texas, made similar claims about the treatment of migrants.
The Trump administration has denied reports and images of the conditions in detainment facilities.
Acting Homeland Security Secretary Kevin McAleenan earlier Sunday called the allegations of mistreatment, specifically of children, "unsubstantiated."
Congress last month approved a $4.6 billion emergency border funding bill that was signed into law by Trump and provides migrant agencies with more resources to tackle the problem. However, the bill has been panned by some progressive lawmakers, such as Rep. Alexandria Ocasio-Cortez (D-N.Y.), who argue it doesn't do enough to address the systemic issues with the border agency.
Two Facebook groups linked to current and former Customs and Border Patrol (CBP) agents have been uncovered recently that include derisive images of migrants, vulgar and sexually explicit posts about lawmakers, and racist comments.
CBP condemned the group discovered by ProPublica, calling the posts "completely inappropriate and contrary to the honor and integrity I see – and expect – from our agents day in and day out."
[The Hill]