Trump lashes out at Fox News's Shep Smith, says 'fake news CNN is better'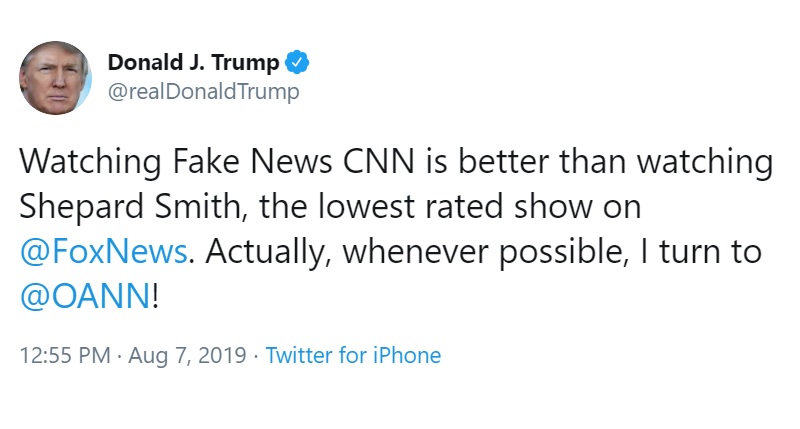 President Trump on Wednesday renewed his criticism of Fox News anchor Shepard Smith, arguing that "Fake News CNN is better" and saying that he now tunes in to the conservative news outlet One America News Network whenever he gets the chance.
"Watching Fake News CNN is better than watching Shepard Smith, the lowest rated show on @FoxNews," Trump tweeted on a day when he visited first responders and survivors of mass shootings in El Paso, Texas, and Dayton, Ohio. "Actually, whenever possible, I turn to [One America News Network]!"
It was not immediately clear what Trump's tweet — which came during Smith's daily program and while Trump was aboard Air Force One to El Paso — was referencing.
Trump earlier Wednesday visited Dayton to meet with those impacted by a mass shooting over the weekend that left nine people dead. 
Smith acknowledged Trump's tweet during his show Wednesday, saying, "Good afternoon, Mr. President. It's nice to have you with us."
The Hill has reached out to Fox News for comment.
Trump has repeatedly denounced the media during his presidency, often referring to it as "fake news" and the "enemy of the people." But he has consistently praised Fox News and network hosts such as Sean Hannity and Tucker Carlson. He has taken a different view of Smith, though.
In March, the president derided Smith as the "lowest rated anchor," saying that he should be working at CNN.
Smith has consistently taken a critical view of Trump during his two-plus years in the White House. Among other things, he fact-checked Trump's prime-time address on border security in January during his daily news program.
Last month, he described Trump's attacks on a group of minority congresswomen as a "misleading and xenophobic eruption of distraction and division."
Trump has recently shown a greater willingness to condemn Fox News over what he views as unfair coverage. After the network aired a "F— Trump" chant from a bar in France in July, Trump claimed that Fox News was "changing fast" and forgetting "the people who got them there."
He lashed out at the network again just weeks later after one of its polls showed him losing to former Vice President Joe Biden in a hypothetical 2020 presidential matchup.
"Fox News is at it again," he tweeted. "So different from what they used to be."
[The Hill]