Trump lashes out at former intel officials for criticism of Iran tweet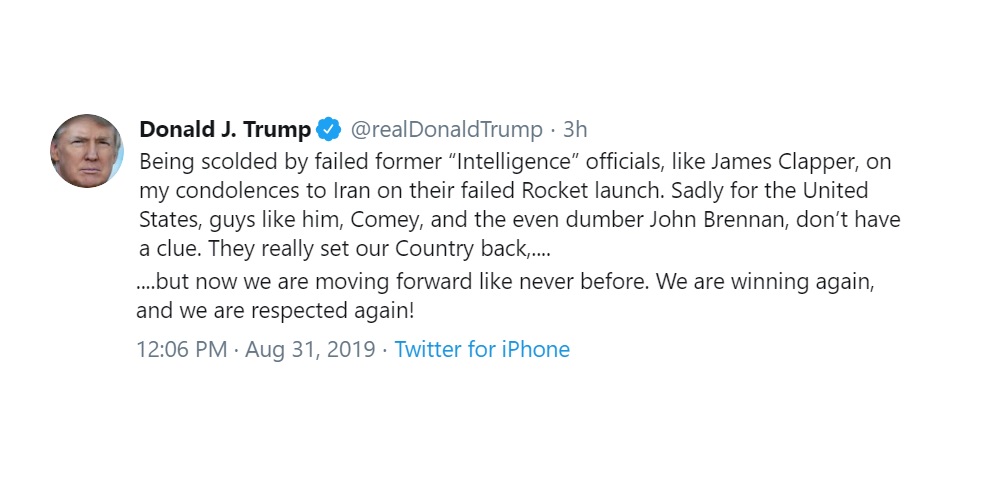 President Trump blasted former FBI Director James Comey, former CIA Director John Brennan and former Director of National Intelligence James Clapper on Saturday for criticism of a tweet Trump sent following a reported accident at an Iranian rocket facility.
The president referred to the three men in a pair of tweets as "failed former 'Intelligence' officials" and accused them of scolding him for offering "condolences" to Iranian officials.
"Being scolded by failed former "Intelligence" officials, like James Clapper, on my condolences to Iran on their failed Rocket launch. Sadly for the United States, guys like him, Comey, and the even dumber John Brennan, don't have a clue. They really set our Country back," Trump tweeted, adding: "but now we are moving forward like never before. We are winning again, and we are respected again!"
It wasn't immediately clear what criticism the president was referring to, as the officials had not issued public statements on Trump's tweet or his decision to release an image taken by U.S. forces of a damaged Iranian rocket facility. Trump has faced criticism from some Democrats for releasing the image due to its high resolution and concerns over whether it should have remained classified.
At a press conference Friday evening, Trump defended his right to release the image, which he said was done under his executive privilege as president.
"We had a photo, and I released it, which I have the absolute right to do," Trump said Friday.
"They had a big mishap. It's unfortunate. So Iran, as you probably know, they were going to set off a big missile, and it didn't work out too well. It had nothing to do with us," he added.
NPR previously reported on Thursday that satellite imagery showed an explosion had occurred on the launch pad at an Iranian rocket facility, though it was unclear if the incident resulted in any casualties.
[The Hill]