Trump: Why aren't we entitled to 'learn everything about' the whistleblower?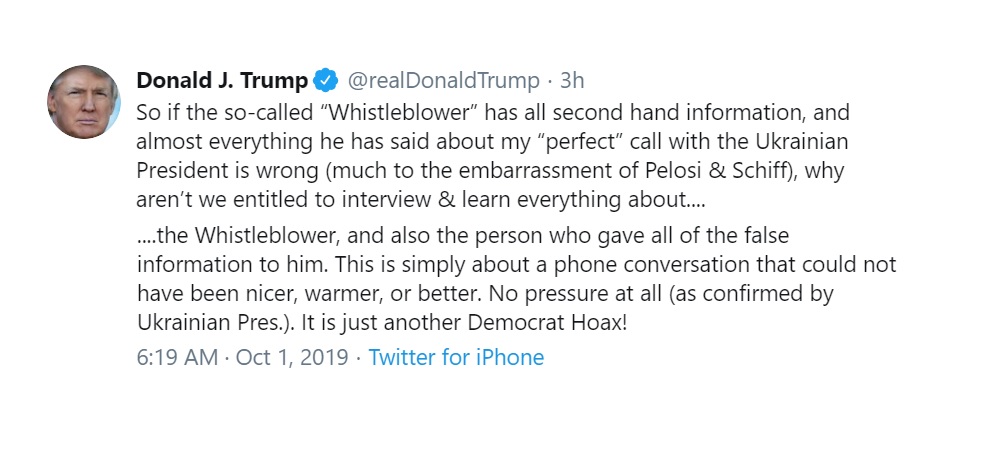 President Trump on Tuesday reiterated his desire to meet with and question the whistleblower whose complaint about Trump's interactions with the leader of Ukraine ignited an impeachment inquiry.
The president, who in recent days attacked the whistleblower as a "fraud" and attempted to undermine their credibility, questioned why he doesn't have the right to interview the anonymous individual.
"Why aren't we entitled to interview & learn everything about the Whistleblower, and also the person who gave all of the false information to him," Trump tweeted. "This is simply about a phone conversation that could not have been nicer, warmer, or better. No pressure at all (as confirmed by Ukrainian Pres.). It is just another Democrat Hoax!"
Trump claimed the author of the complaint "has all second hand information" and that "almost everything" the whistleblower recounted about the president's call with Ukraine was wrong.
But neither of those things is true.
The whistleblower's account of Trump's July 25 call with Ukrainian President Volodymyr Zelensky aligns with a rough White House transcript that shows Trump urged Zelensky to "look into" Democratic presidential candidate Joe Biden and asked him to investigate a company with ties to the 2016 election.
In addition, the intelligence community inspector general released a statement on Monday night clarifying that the whistleblower had firsthand information and information from other sources in their complaint about Trump.
Democrats and the whistleblower's attorneys have expressed concerns that Trump is endangering the person's safety by attempting to uncover their identity and questioning their motives.
The president has ramped up his attacks on the anonymous individual behind the whistleblower complaint in recent days, claiming he should be able to meet the complainant and alleging they are partisan despite not knowing their identity.
The Whistleblower Protection Act makes it a violation for federal agencies to threaten retaliation against individuals who come forward to raise concerns of wrongdoing within the government.
[The Hill]