Trump calls investigations 'BULLSHIT'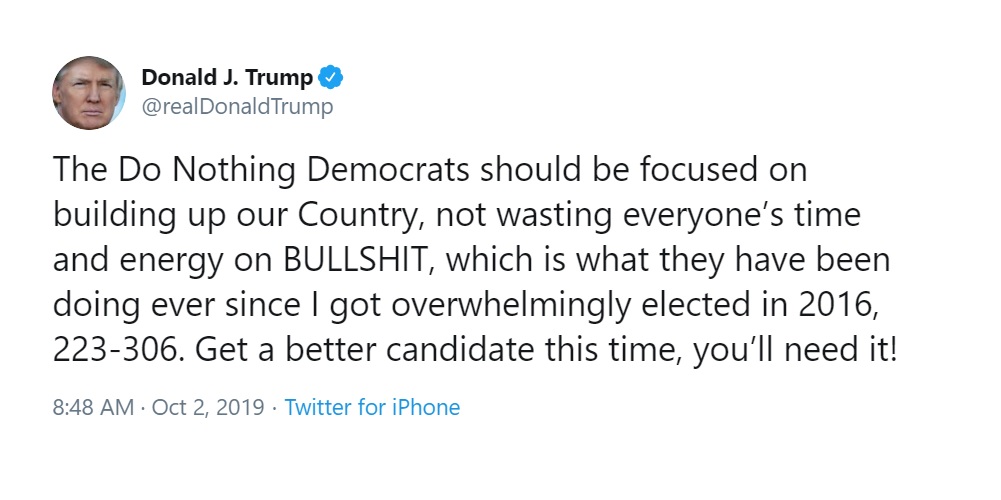 President Donald Trump's furor with House Democrats' barely week-old impeachment probe reached new heights on Wednesday, apparently prompting the president to resort to obscenities to express his discontent.
In a slew of tweets fired off as House Speaker Nancy Pelosi and House Intelligence Chairman Adam Schiff held a briefing on lawmakers' impeachment efforts, Trump branded the Democratic Caucus as "Do Nothing Democrats" and proceeded to call their oversight efforts "bullshit."
"The Do Nothing Democrats should be focused on building up our Country, not wasting everyone's time and energy on BULLSHIT, which is what they have been doing ever since I got overwhelmingly elected in 2016, 223-306," he wrote, incorrectly stating the breakdown of Electoral College votes he and Hillary Clinton received.
He also fired off a warning to Democrats ahead of their nominating contest next year: "Get a better candidate this time, you'll need it!"
Later speaking to reporters in the Oval Office alongside Finland's visiting president, Trump managed to partially censor himself in making a crude reference to Schiff, one of his top congressional rivals.
"He is a shifty dishonest guy who was critical of one of the great secretary of States," Trump said of Schiff, who'd just criticized Mike Pompeo on national television. "The most honorable person, Mike Pompeo, and this guy was negative on Mike Pompeo."
Trump then delivered some locker room talk about Schiff: "He can't — you know there's an expression, he couldn't carry his blank strap," he said, apparently bleeping out "jock strap."
"I won't say it," Trump went on, "because they'll say it was so terrible to say, but that guy couldn't carry his blank strap, do you understand that?"
Pelosi only formally launched an impeachment inquiry into Trump last week, after it was reported the president pressured Ukraine's president to investigate former Vice President Joe Biden and his son Hunter. Biden is among the top candidates vying to run against Trump next year.
The probe stems from a whistleblower complaint filed by a member of the intelligence community citing that call, prompting the White House to release its rough transcript of the conversation. Democrats, citing Trump's sudden decision to withhold military aid from Ukraine, suggested the conversation may have contained a quid pro quo, though no such offer is explicitly made, according to the White House's account of the phone call.
Trump's outbursts come as the investigation has intensified on a daily basis. Early Wednesday morning, Pompeo confirmed that he was on the July phone call with Trump and Ukraine's Volodymyr Zelensky after initially playing down any knowledge of what was discussed on the call.
Pompeo also stoked Democrats' ire by appearing to accuse them on Tuesday of intimidating career employees at the State Department and by suggesting several potential witnesses could decline to appear for depositions with lawmakers.
In recent days, Trump demanded Schiff's resignation while claiming the congressman and the anonymous whistleblower could both be guilty of treason.
But Democrats have moved forward quickly with their probe, hitting Trump and his allies with a number of subpoenas over the past week, and Trump has continued to lash out, calling their investigations an attempt at a "coup." Schiff on Wednesday made clear that he would not put up with stonewalling by the White House, telling reporters that doing so would be considered evidence of obstruction in any eventual articles of impeachment.
In Wednesday's news conference, Pelosi said she still believed Democrats could work with the White House on prescription drug pricing legislation and to make tweaks to Trump's renegotiated deal to replace the North American Free Trade Agreement, arguing that her colleagues could investigate and legislate simultaneously.
She also forcefully defended the probe, insisting she would be a fair arbiter while ensuring it moves forward at an aggressive pace.
As Trump barked out insults in the Oval Office, referring to Schiff as a "lowlife" and "shifty Schiff," Finland's Sauli Niinistö sat quietly in the chair beside him with a straight face.
When a Finnish reporter offered up the chance to change the subject, asking Trump what he could learn from "the happiest country in the world," Finland, the president continued to lay into his rivals.
"Well if you got rid of Pelosi, and you got rid of shifty Schiff," Trump trailed off with a grin after slapping Niinistö on the knee.
"Finland is a happy country, he's a happy leader, too," Trump added, eliciting an eyebrow raise and a knowing chuckle from Niinistö.
[Politico]
Reality
Donald Trump tweeted this during his 9 hours of Executive Time.