TRUMP THREATENS TO SUE DEMOCRATS AND 'SHIFTY ADAM SCHIFF' FOR FRAUD OVER IMPEACHMENT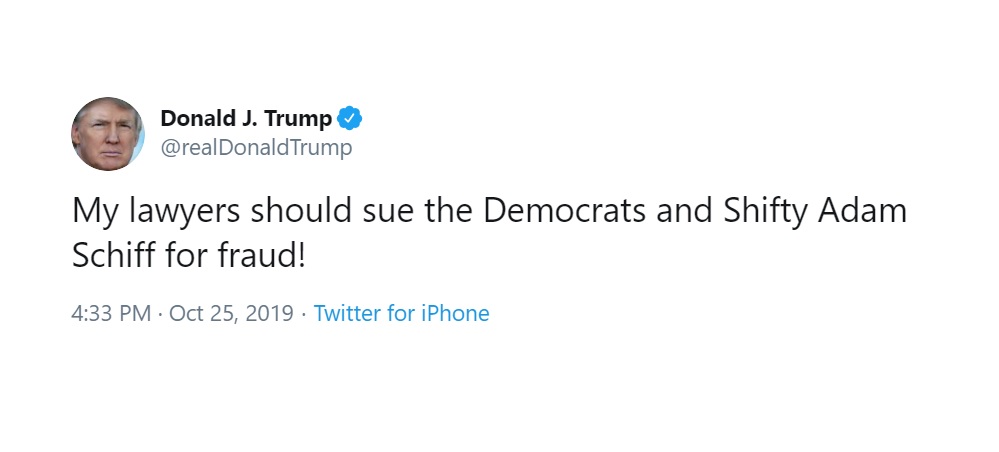 President Donald Trump spent early Friday evening denouncing the "impeachment scam" by Democrats and said his lawyers should sue the Democrats and "Shifty Adam Schiff" for fraud. The president, through tweets, said he had a "perfect Ukrainian call" and that Democrats not wanting Whistleblower testimony anymore furthers what he calls a "witch hunt."
The president wrote Friday:
"Democrats just announced that they no longer want the Whistleblower to testify. But everything was about the Whistleblower (they no longer want the second Whistleblower either), which they don't want because the account of my call bore NO RELATIONSHIP to the call itself…..," Trump tweeted.
"…The entire Impeachment Scam was based on my perfect Ukrainian call, and the Whistleblowers account of that call, which turned out to be false (a fraud?). Once I released the actual call, their entire case fell apart. The Democrats must end this Scam now. Witch Hunt!"
Three minutes after that pair of tweets, the president said his lawyers should sue Rep. Adam Schiff, who is chairman of the House Intelligence Committee, and his Democrat colleagues.
"My lawyers should sue the Democrats and Shifty Adam Schiff for fraud!"
The calls for Trump's impeachment has grown exponentially among Democrats this calendar year, from freshmen representatives like Rashida Tlaib to veteran lawmakers like Maxine Waters, Al Green and the late Elijah Cummings.
Schiff has been the most notable House member pushing impeachment, after reports of the phone call between Trump and Ukrainian president Volodymyr Zelensky.
Democrats say Trump's call was to investigate former Vice President Joe Biden, who leads most 2020 Democratic presidential candidate polls, and his son, Hunter Biden.
Trump said the call was to congratulate Zelensky on his victory and that he told the Ukrainian president they could quickly improve their image.
In August, a whistleblower filed a complaint with Michael Atkinson, the inspector general of the intelligence community, in regards to the Ukrainian phone call by Trump. A month later, Trump acknowledged bringing up Biden's name in the phone call.
On Sept. 24, Speaker of the House Nancy Pelosi announced a formal impeachment inquiry into President Trump's actions. A day later, the White House released a transcript of the Ukraine call.
Trump has called the impeachment inquiry a "scam" and "witch hunt," and began targeting the whistleblower, asking for a personal interview with them.
Three weeks ago, the White House indicated it would not cooperate with House Democrats' impeachment inquiries.
While each side has threatened lawsuits against each other, it was President Trump on Friday encouraging his side to sue the Democrats and Rep. Schiff in the latest round of the impeachment standoff.
[Newsweek]