Trump goes after Pelosi in early morning tweets complaining about impeachment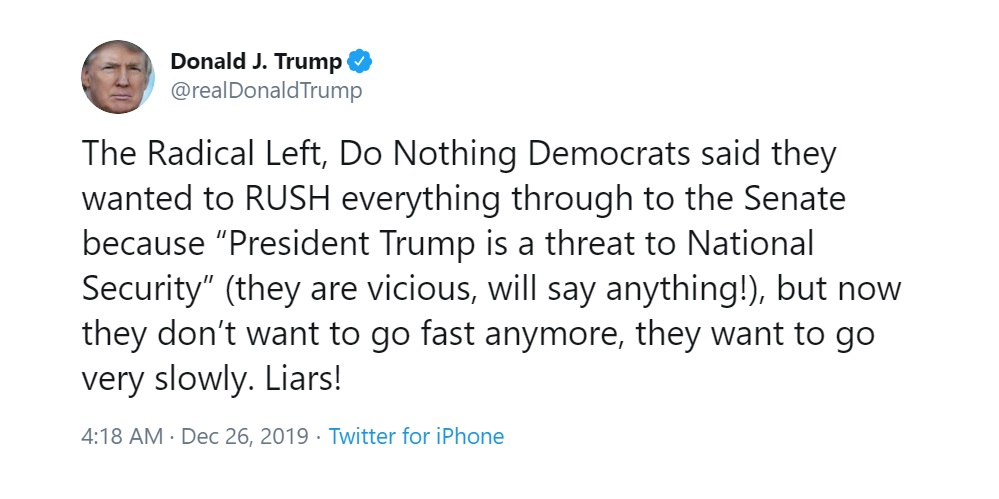 President Trump assailed House Speaker Nancy Pelosi (D-Calif.) in a series of tweets early Thursday, saying she should "clean up" her "filthy" and "dirty" district and suggesting she should face a primary challenger in 2020.
Trump, who repeated his earlier characterizations of Pelosi as "crazy," continued his theme of lashing out at Democrats roughly a week after the House voted largely along party lines to pass articles of impeachment accusing him of abusing his office and obstructing Congress.
Trump has taken particular issue with Pelosi over her decision to delay sending the two articles of impeachment to the Senate until the rules for the impeachment trial in the upper chamber are made clear. Pelosi has expressed concerns that Senate Majority Leader Mitch McConnell (R-Ky.) will not hold a fair trial.
"The Radical Left, Do Nothing Democrats said they wanted to RUSH everything through to the Senate because 'President Trump is a threat to National Security' (they are vicious, will say anything!), but now they don't want to go fast anymore, they want to go very slowly. Liars!" Trump, who is on a two-week stay at his Mar-a-Lago resort in Palm Beach, Fla., tweeted early Thursday.
Trump then went after Pelosi and Gavin Newsom, California's Democratic governor, claiming the two had ignored problems in their state.
"Nancy Pelosi's District in California has rapidly become one of the worst anywhere in the U.S. when it come to the homeless & crime. It has gotten so bad, so fast — she has lost total control and, along with her equally incompetent governor, Gavin Newsom, it is a very sad sight!" Trump wrote.
"Crazy Nancy should clean up her filthy dirty District & help the homeless there. A primary for N?" the president added in a later tweet.
Pelosi, who has served in Congress for more than three decades, is facing three primary challengers in California's 12th Congressional District, though all are believed to be long shots for the nomination.
Trump is hungry for a trial in the GOP-controlled Senate, which is widely expected to acquit him of accusations that he abused his office by pressuring Ukraine to launch investigations that could benefit his reelection campaign and obstructed the impeachment inquiry into his administration's dealings with Kyiv.
Pelosi's decision to withhold the articles, however, has left the timing of a Senate trial up in the air. McConnell has said he will not acquiesce to Democrats' demands that the Senate call witnesses such as acting White House chief of staff Mick Mulvaney to testify at the trial.
Trump has lashed out over impeachment several times in recent days, telling reporters Tuesday that he believed Pelosi would be "thrown out" as Speaker of the House over her decision to move forward with impeachment.
"She got thrown out as Speaker once before," Trump told reporters following a video teleconference with members of the military.
"I think it's going to happen again. She's doing a tremendous disservice to the country, and she's not doing a great job. And some people think she doesn't know what she's doing," Trump added.
[The Hill]