Trump Defends Putin and Blasts US Media on Putin Propaganda TV Network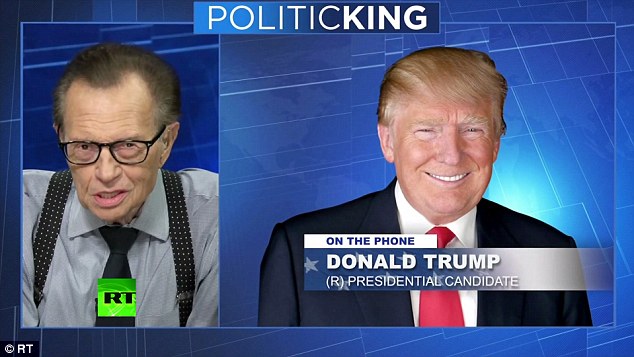 Donald Trump gave an interview Thursday that aired on a television station funded by the Kremlin, arguing that the Russian government was "probably" not meddling in the American presidential race.
Speaking to Larry King on RT America, which is an arm of government-funded news outlet Russia Today, Trump said it would "not be appropriate" if Russian forces were looking to influence the race, which is suspected by some investigators and has been fanned by Hillary Clinton's campaign as recently as Thursday morning.
He also suggested that the allegation was politically motivated.
"I think it's probably unlikely. Maybe the Democrats are putting that out — who knows," Trump told King. "If they are doing something, I hope that somebody's going to be able to find out so they can end it. Because that would not be appropriate at all."
Jason Miller, a Trump spokesman, told CNN the interview was recorded as a podcast and was a favor to King, adding, "Mr. Trump was never told it would be shared anywhere else." Miller later said Trump wouldn't have agreed to do the interview had he known it would be aired on RT.
The interview was striking given that Trump spent Thursday on the defensive over some of his laudatory comments about Russian President Vladimir Putin. Clinton attacked Trump for praising Putin on Wednesday evening at the "Commander in Chief Forum" as a stronger leader than President Barack Obama, and her campaign has for weeks pointed out the alleged ties between Trump's associates and Russian interests.
Yet the Republican nominee's operation on Thursday indicated no discomfort with the mounting criticism, with Trump running mate Mike Pence echoing the distinction made between Putin and Obama. And the appearance on Russian television suggested no hesitation from Trump to dive into the controversy.
Putin has called the hack of Democratic officials' email accounts a "public service" but has denied Russian involvement. Asked by King if he agreed with Putin's assessment, Trump declined to pass judgment.
"I don't know who hacked. You tell me: Who hacked?" Trump said, claiming he had not heard Putin's statement. "I have absolutely no opinion on that."
Asked during the RT America interview what has surprised him most about the political process, Trump unloaded on the American press.
"Well, I think the dishonesty of the media. The media has been unbelievably dishonest," Trump responded. "I mean they'll take a statement that you make which is perfect and they'll cut it up and chop it up and shorten it or lengthen it or do something with it."
"And all of a sudden it doesn't look as good as it did when you actually said it. But there's tremendous dishonesty with the media. Not all of it, obviously, but tremendous dishonesty," he said.
Trump also weighed in on domestic politics, declining to criticize Libertarian nominee Gary Johnson for a gaffe he made earlier on Thursday and saying unequivocally that Johnson should not be in the general election debate later this month. Johnson would need to earn 15% support in polls to make the stage, an effort seemingly hampered when he failed to identify the war-torn city of Aleppo, Syria, in a live television interview.
"He's not too much of a factor," Trump said. "I'd rather it be Hillary and myself, because we're the only two with a chance of winning."
Trump's campaign manager, Kellyanne Conway, defended Trump's appearance to CNN's Chris Cuomo on "New Day" on Friday, saying that Trump wasn't criticizing the US to say the Iraq War was a failure.
"If you think that Donald Trump is the only person in this country that thinks we've had a feckless, anemic foreign policy in the last eight years, then that's just not true," Conway said.
She also clarified Trump's comments on Putin the day before, in which Trump called Putin a stronger leader than Obama in his country.
"In the full clip he said, 'That's not the system I agree with, but he's a strong leader there,'" Conway said. "I mean, nobody wants to play the full clip."
King's show, PoliticKing, is produced by Ora TV, which was founded by King and Mexican media magnate Carlos Slim in 2012. In June 2015, Ora announced it was dropping plans to work on a television project with Trump following his controversial remarks about undocumented Mexican immigrants.
(h/t CNN, Washington Post)
Reality
As Mediate points out, Trump likely didn't think too much beyond just doing an interview with his longtime friend Larry King. And the Trump campaign spokeswoman said that they thought Larry King interview was going to be on King's podcast, not Russia Today.
What would be worse, though? A U.S. presidential candidate agreeing to do an interview on Russia Today, or doing one by accident?
Media